Sino-Global Purchases First Tanker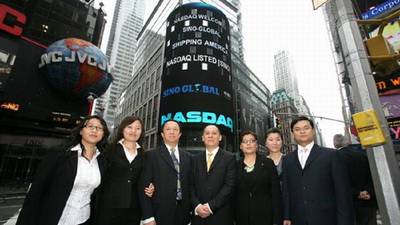 Sino-Global Shipping America, which was recently listed on Nasdaq, is becoming a shipowner.
The shipping agency, logistics and ship management services company today announced that it has signed a Letter of Intent to acquire a small oil/chemical tanker from Rong Yao International Shipping Limited, a Hong Kong corporation.
Sino-Global will issue 1.2 million shares of its common stock to the Rong Yao as partial payment of the vessel purchase price. The parties further agreed that such payment should be valued at $2.22 million, with each share of the company's common stock being valued at $1.85.
The LOI updates the Memorandum of Understanding between the two companies that was signed in January 2015. Since the signing of the MOU, Sino-Global has been performing due diligence and continuing its negotiations with Rong Yao on closing conditions, the purchase price, post-closing purchase price adjustments and the form of payment of the purchase price.
Lei Cao, Chief Executive Officer of Sino-Global, indicated that the Vessel Seller's willingness to accept 1.2 million shares of Sino-Global's common stock as payment "is an important and significant validation of the vessel seller's belief in the company's strategic direction, its growth potential and the ability of Sino-Global's seasoned senior management team to execute its business plan."