KOTUG Sisters Named in Hamburg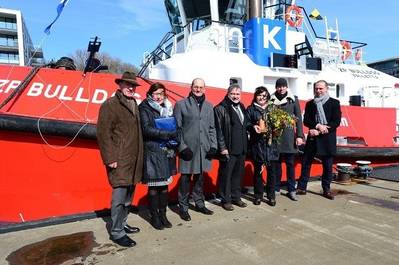 The new build "ZP Bulldog" and her sister tug "ZP Boxer" christened by family of the two General Managers of Schleppreederei KOTUG GmbH.
Both ceremonies were held at the tug boat station in the Port of Hamburg with shareholders, members of the board and employees and their family in attendance.
The new buildings belong to the "Azimuth Tractor Drive 24/ 12 Twin Fin" series from Damen Shipyards and show with just 24 meter l.o.a. and 12 meter breadth a distinctive compact design. With two fore propulsion units and two "Twin Fins", both tug boats demonstrate high course stability. The tugs are equipped with two main engines, generating 5.600 horse powers and a mighty bollard pull of 70 tonnes.
The tugs were built by Damen Shipyards in Vietnam and were shipped on heavy lift carriers to Rotterdam, where the final outfit in accordance with KOTUG's requirements were installed and the KOTUG colours applied. Thereafter, they sailed to the Port of Hamburg to commence operations. Since that time, they have performed well and pilots, are said to particularly value them for their optimised manoeuvrability and strong power.
"ZP Boxer" and "ZP Bulldog" constitute a part of KOTUG's comprehensive fleet renewal and expansion plan. They have the power to assist ultra-large container ships without the shipowners having to employ extra tugboats.
In the picture: Left to right: Uwe Magnussen (General Manager Germany), Margo Kok-van der Wal (CFO), Mijndert Wiesenekker (Damen Sales Director Benelux), Andreas Peukert (General Manager Germany), Petra Peukert (sponsor lady and wife of Mr. Peukert), Dirk Woltersdorf (Captain of the ZP Bulldog), Harrold van der Meer (COO).