Skating on Thin Ice: Great Lakes Coast Guard Remains Active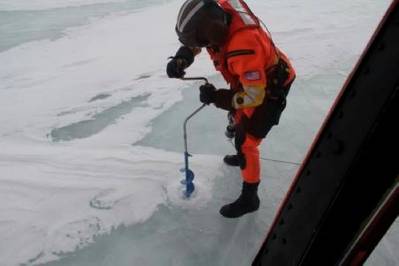 Two men are rescued after their snowmobiles crashed through the ice about a mile offshore on Saginaw Bay near Bay City, Mich., and meanwhile the Coast Guard continue their efforts to keep the users of the ice-bound Great Lakes safe by gathering ice depth data.
Snowmobile rescue
Personnel at Coast Guard Station Saginaw River, in Essexville, Mich., received a night-time call from Bay County 911 dispatch stating that two people had broken through the ice. The county dispatch told the individuals to remain on site so their location could be determined based on the cell phone information.

The Coast Guard, launched aboard a 20-foot airboat, arrived on scene, about a mile off of Jones Road Boat Ramp in southeast Saginaw Bay, to find that the two victims, ages 19 and 45, had already gotten back onto the ice due to the shallow depth of the water. Both were responsive but suffering from hypothermia. They were brought back to the Coast Guard station where they were transferred to Bay County emergency medical services personnel and later taken to McLaren Bay Region Hospital.
Great Lakes ice depth
Pictured is Petty Officer 3rd Class Scott Gendron of Coast Guard Air Station Detroit as he drills into frozen Lake Erie to gather ice depth measurements in support of the National Oceanic and Atmospheric Administration.

During a two-day operation, the Coast Guard informs that measurements were taken in 20 locations around the lake with depth readings ranging from 3 inches to more than 3 feet.