SkipperLiner Introduces 'Pride of Cassville'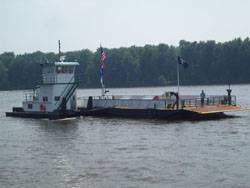 SkipperLiner of LaCrosse, WI, recently launched a passenger/vehicle barge and towboat ferry. Here are her particulars:

BARGE
LOA: 78'
Beam: 32'
Hull Depth: 5'0"
Draft (clearance): 3'6"
Hull Thickness: 5/16" (sides)
3/8" (deck)
5/16" and 3/8" (bottom
Displacement: 74.08 long tons
Certification: USCG
TOW
LOA: 45'
Beam: 16'
Hull Depth: 6'0"
Draft (clearance): 4'6"
Gross Tons: Less than 100
Displacement: 35 tons
Hull Thickness: 5/16" (sides)
1/4" (deck)
3/8" (bottom)
Propulsion Engines: Twin Cummins model QSB5.9 300 HP marine diesel engines with direct drives
Transmissions: ZF model 280-1 3:0:1
Engine Cooling: Fernstrum
Propellers: Michigan Wheel 32" x 21 pitch, bronze. five blade
Propeller Shafts: 2.5" (Aquamet 17)
Generator(s) 9 kW generator powered by Cummins model MDKBL marine diesel engine
HVAC: 1 ton air cooled
Electronics: Two ICOM model 412 VHF/FM marine radios, Furuno model 1715 radar system
Winches: Wintech
Certification: n/a

The PRIDE OF CASSVILLE was built for the City of Cassville WI. She will transport vehicles and passengers across the Mississippi River between Cassville, WI and IA. This service connects two National Scenic Byways: the Great River Road and the Iowa Great River Road. The PRIDE OF CASSVILLE replaces the CHARLIE D that has been in service in Cassville since 1966. The Cassville ferry is Wisconsin's oldest operating ferry, they have operating since 1833. The ferry service operates 9:00 am to 9:00 pm seven days per week from Memorial Day through Labor Day.