DNV GL Grants AIP for HHI's SkyBench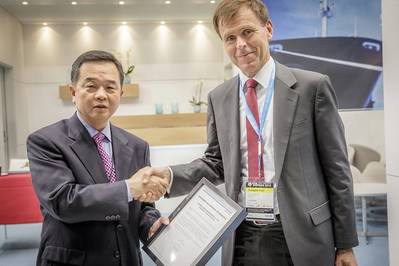 Hyundai Heavy Industries (HHI) has received an Approval in Principle (AIP) certificate from Classification society DNV GL for its SkyBench concept for increasing capacity of mega box ships.
The result of development conducted by HHI and work with DNV GL, the certificate confirms that the concept complies with the DNV GL rules for the classification of ships. HHI's Senior Executive Vice President & COO of Shipbuilding Division, Yoon Moon-kyoon, was presented with the certificate by
Tor E. Svensen
, CEO of DNV GL – Maritime, at a ceremony at the
DNV GL booth
at Nor-Shipping.
First demonstrated at the SMM trade fair in Hamburg last year, the SkyBench concept is a design to increase the cargo capacity of large container vessels. The bridge and upper three decks of a "twin island" design container would be constructed as a separate sliding block, mounted on rails and able to move over the length of two 40ft container bays. In combination with a resizing and relocation of fuel tanks and the utilization of the void spaces beneath the accommodation block in a traditional design, this allows the addition of two extra 20ft container bays. The resulting cargo increase amounts to 270 TEU on a 17-row wide 10,000 TEU ship, 450 TEU on a 23-row wide 19,000 TEU ship and 350 TEU on a 20-row wide 14,000 TEU vessel.
"The SkyBench shows how the industry's increased focus on efficiency and maximizing transport capacity has really sparked innovation in design and operation," Svensen said. "Additionally, the potential of this design to offset reduced cargo capacity when choosing LNG as ship fuel means that HHI can offer a design tailored to meet stricter sulphur emission limits in the future."
The SkyBench mechanism takes 10 minutes to operate, using four electric drive train units to move the block backwards from its normal position. The two 40ft side casings on which the accommodation block rests provide structural strength and hold lifeboats, provision cranes and utility rooms. In an emergency, the sliding block is detachable and is designed to float independently of the vessel.
Length overall: Approx. 400 m
Length between perpendiculars: 383 m
Breadth molded: 58.6 m
Depth molded to main deck: 30.5 m
Draught scantling: 16 m
Container capacity: 19,400 TEU