Off Somalia Two Pirated Vessels Freed in Three Days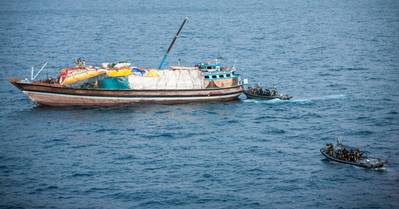 EU Naval Force Somalia (EU NAVFOR) Operation Atalanta & NATO disrupt 2 pirated dhows in the Gulf of Aden & free hostage crew.
A suspicious dhow, reportedly pirated in Bosaso – Somalia, was located off the coast of Oman by the Spanish EU NAVFOR Maritime Patrol and Reconnaissance Aircraft (MPRA). The French EU Naval Force frigate La Fayette was dispatched and a boarding party found the pirates had already fled from the scene in another dhow they had taken over.
Later, a German MPRA located the fleeing dhow and HNLMS Rotterdam's amphibious craft blocked its path towards the Somalia shoreline forcing it to stop. With EU NAVFOR ships and helicopter providing surveillance and close protection, a Dutch team was able to board the dhow, freeing its crew and apprehending 6 suspected pirates. They are now detained onboard HNLMS Rotterdam, awaiting further decisions on the follow-up process.