Ten Seamen Saved from Sea off Somalia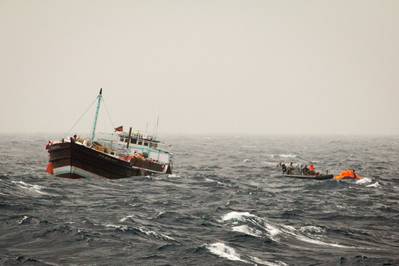 EU Naval Force French Frigate 'Surcouf' rescues 10 from life-raft after their coastal cargo vessel sank 30 miles off the Somali coast.

The master of the Indian flagged vessel had sent out a distress call after engine failure and the vessel began to ship water.

FS Surcouf, which was conducting counter piracy patrols 26 nautical miles away, raced to assist the mariners, who by now had 'abandoned ship' in rough seas and climbed into a life raft.

Upon arrival at the scene, a team of sailors from Surcouf helped to evacuate the men to the French warship. Once onboard, the men, who were in deep shock and very relieved to be rescued, were offered hot showers, food and dry clothes. Forty five minutes after being rescued, the mariners watched as their stricken vessel finally sank.

After taking time to recover onboard Surcouf, the 10 mariners were then transferred to EU NAVFOR warship, Belgium frigate BNS Louise MBNarie, for their onward journey to land.