Somalia Piracy: Relief French Warship Arrives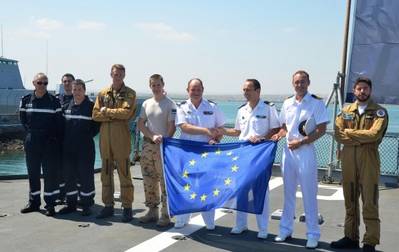 EU Naval Force welcomes French frigate FS Courbet to the EU Naval Force's operation Atalanta off the coast of Somalia.

After navigating the Suez Canal and Bab-el-Mandeb strait, the French frigate FS Courbet has joined the EU Naval Force to relieve the FS Surcouf which has been on station since December 2012. The sister warships met in Djibouti for the handover.
FS Courbet departed from her home base in Toulon, France, with a Panther helicopter from the French Naval Aviation 36F Flottille and a Vessel Protection Detachment (VPD) from Estonia on board. She is now fully integrated in Operation Atalanta.

Whilst with EU NAVFOR, the FS Courbet will work together with the other EU NAVFOR ships already deployed in the region, as well as the ships from other counter-piracy task forces. During this time the FS Courbet will be tasked with protection of World Food Programme (WFP) and African Union Mission in Somalia (AMISOM) shipping, providing protection to vulnerable shipping on a case-by-case basis, monitoring fishing activities off the Somali coast, and the deterrence, prevention and repression of acts of piracy and armed robbery at sea.