South Korean Partners to Develop Nuclear-powered Ships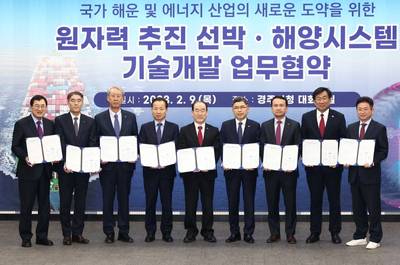 A group of partners in South Korea has set out to develop, demonstrate and commercialize vessels powered by small modular reactors (SMR).
Nuclear power for ships has been gaining interest amid stricter greenhouse gas emissions regulations in the international shipping sector.
Nine participating institutions, including KAERI, Gyeongsangbuk-do, Gyeongju-si, Korea Research Institute of Ships and Ocean Engineering (KRISO), Korean Register (KR), H-Line Shipping Co., Ltd., HMM Co., Ltd., Wooyang Shipping Co., Ltd., Sinokor Merchant Marine Co., Ltd. on February 9 signed a memorandum of understanding (MOU) allowing them to jointly contribute to the development of the SMR industry and enhance the competitiveness of the Korean maritime and nuclear industries.
The International Atomic Energy Agency describes SMRs as advanced nuclear reactors that have a power capacity of up to 300 MW(e) per unit, which is about one-third of the generating capacity of traditional nuclear power reactors
Specifically, the partners will focus on jointly developing a Molten Salt Reactors (MSR), a type of SMR, that will be safe and suitable for marine vessel propulsion. MSRs are 'liquid fuel reactors' that mix nuclear fuel materials with molten salt that melt solid salt at a high temperature. There is no need to replace nuclear fuel during ship operation, and when an abnormal signal occurs inside the reactor, it is designed so that molten salt, which is liquid nuclear fuel, hardens, preventing serious accidents from the source. Its compact design makes it easy to load large quantities of cargo. Unlike diesel engines, it is also an eco-friendly energy source that does not emit carbon.
President of KAERI, Dr. Joo Han Gyu, said, "Theoretically, no matter how good the technology is, it means nothing if it cannot be used in our life." He also expressed his expectations for this agreement, saying, "through collaboration with the maritime industry, we can take one step closer to realizing advanced nuclear systems."

MSR conceptual diagram (Image: KAERI)