Sovcomflot Reports Loss for 9M 2017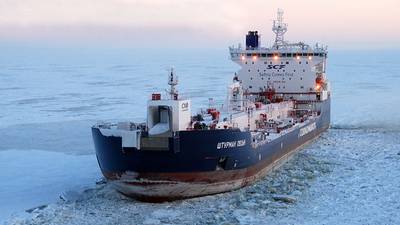 PAO Sovcomflot (SCF Group) reported a $6.8 million loss for the first nine months of 2017, citing the adverse impacts of low spot market freight rates in the conventional tanker sectors.
"This year has proven to be a very challenging period for the tanker industry and the situation now faced by many conventional tanker ship owners is especially severe," said Sergey Frank, President and CEO of PAO Sovcomflot. "An oversupply of tonnage and reduced demand, resulting from oil capacity cut-backs led by OPEC, have resulted in low freight rates over a sustained period which have weighed upon the earnings of all participants in the tanker shipping industry. With tanker freight rates in some segments of the spot market declining by more than 50 percent year-on-year, Sovcomflot's results have not been immune from the earnings weakness affecting our industry."
While the group notes it has suffered in the tanker sector, it said strong performances in the offshore and gas sectors have helped to offset losses.
Nikolai Kolesnikov, Executive Vice-President, Chief Financial Officer, said, "Sovcomflot's performance in the first nine months of 2017 reflects the harsh realities of the tanker market. However, the significant decline in tanker market freight rates over the period was countered by our higher value-added industrial shipping activities in offshore and gas transportation which we have been growing consistently over the past years and which currently account for up to 50 percent of the group's total invested capital."
Frank said, "Sovcomflot has continued with its core strategy of developing its specialized offshore and gas transportation operations over 2017. Our offshore and harsh environment business segment was certainly the stand-out performer, with nine-month TCE revenue and operating profits both up over 50 percent."
This year icebreaking platform supply / standby vessels Gennadiy Nevelskoy and Stepan Makarov were delivered into long-term time-charters with Sakhalin Energy Investment Co Ltd. (SEIC) to serve the Sakhalin-2 project.
SCF Group's offshore business division saw 9M 2017 time charter equivalent (TCE) revenue grow by 55.9 percent to $274.6 million, up from $176.1 million for 9M2016, with operating profit over the period rising by 50.5 percent to $131.2 million, compared to $87.1 million for 9M 2016.
"Looking ahead into 2018, we anticipate a soft freight rate environment to remain in the conventional tanker sectors, whilst Sovcomflot's industrial shipping model will remain a source of strength and balance," Frank said. "In the near term, we expect to strengthen our industrial business portfolio with the addition, in Q4 2017 and Q1 2018, of two further offshore vessels into the fleet which will be employed under long-term time-charter agreements with key clients. We are also engaged in opportunities which will provide further growth for the group in both the offshore and gas sectors."
Kolesnikov said, "Importantly, we can capture follow-on business from existing projects as demonstrated in the reporting period by the five-year extension of the time-charter for the provision of shuttle tanker services for the Lukoil-operated Varandey project."
"The group's robust business model, with its balanced business portfolio and high levels of earnings visibility (total future contracted revenues of $8.1 billion), continues to make
Sovcomflot attractive
to international investors," Kolesnikov continued. "This has enabled us to access the international debt capital markets, with innovative credit facilities secured on highly competitive terms."
This year the group completion of series of refinancing deals totaling $324 million, including an additional $150 million tap of the 2016 $750 million Eurobond issue and a new $174 million long-term Sberbank facility for the Prirazlomnoye Project vessels, Kirill Lavrov and Mikhail Ulyanov.