Stabbert Yacht & Ship Shipyard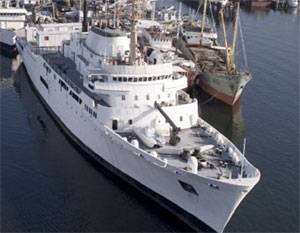 CEO Dan Stabbert and Paul Madden, Head of Sales, announced the sale of the 308 ft ex-NOAA Research Ship Sahara to a European buyer. This vessel is currently undergoing a complete re-fit and conversion at Stabbert Yacht and Ship (SYS) in Seattle. The vessel will be exported from the US and may benefit from a new export financing program that SYS is offering to international buyers. Under this program, Stabbert is able to offer competitive financing for buyers by guaranteeing term financing to creditworthy international buyers for purchases of U.S. vessels and refit/conversion services.

"The advantages to foreign buyers in the current economy are enormous." states CEO Dan Stabbert. "Market conditions present unique opportunities to buy seaworthy commercial vessels for conversion to exploration yachts, shadow boats, or for specialized missions such as oil research or security duties."

To date Stabbert has completed over 30 vessel conversion projects in the commercial and yacht sectors of the industry. Stabbert Maritime Group has recently completed a total refit of the 143 ft Sterling Motor Yacht Devotion (ex Marjorie Morningstar), and also the 180 ft Revelation (ex-Patagonia).