Stark to Head GICA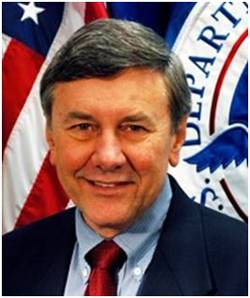 James Stark was named Executive Director of the Gulf Intracoastal Canal Association (GICA), effective July 6, 2010. GICA's mission is to ensure the Gulf Intracoastal Waterway is maintained, operated and improved to provide the safest, most efficient, economical and environmentally-sound water transportation route in our nation. Stark most recently has been consulting on the response and recovery operations associated with the Deepwater Horizon Spill in the Gulf of Mexico. He also served as the Federal Emergency Management Agency (FEMA) Assistant Administrator for Gulf Coast Recovery. In that capacity, he acted as the Senior Executive Service leader of a professional staff overseeing Hurricanes Katrina and Rita recovery operations in Texas, Louisiana, Mississippi, and Alabama.
Prior to that Mr. Stark was a Gulf Region Operations/Logistics Coordinator for Titan Maritime LLC, providing support and expertise to Titan personnel and other salvors to plan and execute coordinated salvage operations for thousands of grounded, sunk and stranded vessels throughout the affected coastal areas in the wake of Hurricane Katrina.
Serving the U.S. Coast Guard in a number of capacities throughout his career, Mr. Stark was Chief of Staff for the Eighth Coast Guard District in New Orleans from 2003 to 2005, acting as Principal Deputy and advisor to U.S. Coast Guard District Commander; Chief of the Operations Division for the Seventh Coast Guard District in Miami, Florida, from 2001 to 2003; Commander of the Coast Guard Group in Mobile, Alabama, from 1998 to 2001; and a Coast Guard Officer in various afloat and shore locations from 1976 to 1998.
Stark received a Master of Science degree in National Security Strategy from The National War College in Washington, DC, an M.B.A. from The College of William and Mary in Williamsburg, VA, and a Bachelor of Science degree in Ocean Science from the United States Coast Guard Academy in New London, CT.