Steel Cut for Fourth National Security Multi-Mission Vessel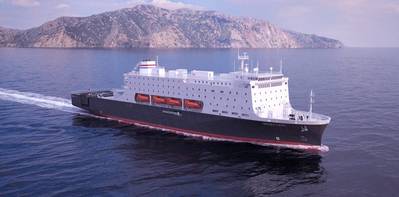 Philly Shipyard held a steel cutting ceremony for the fourth in a series of new training ships it is building for the United States' state maritime academies.
Scheduled for delivery to the Texas A&M Maritime Academy in Galveston, Texas in 2025, the new National Security Multi-Mission Vessel (NSMV) is being built under a program for the U.S. Department of Transportation Maritime Administration (MARAD), which owns and operates training ships for the nation's state maritime academies
MARAD's NSMV program is designed to provide a purpose-built, state-of-the-art training platform for state maritime academies in New York, Massachusetts, Maine, Texas and California, respectively. In addition, the five NSMVs will be available to support humanitarian assistance and disaster relief missions when required.
In 2019, MARAD awarded TOTE Services a contract to be the Vessel Construction Manager (VCM) for the NSMV program, and Philly Shipyard secured the contract to build the first two vessels in 2020. The next two vessels in the NSMV program were ordered in 2021, followed by the fifth and final vessel in 2022.
Construction of the first two vessels is well underway, with contracted delivery of NSMV I to SUNY Maritime College in 2023, NSMV II to Massachusetts Maritime Academy in 2024, and NSMV III to Maine Maritime Academy in 2024.
Each NSMV will feature numerous instructional spaces, a full training bridge and have space for up to 600 cadets to train in a first-rate maritime academic environment at sea. In addition, each ship will feature modern hospital facilities, a helicopter pad and the ability to accommodate up to 1,000 people in times of humanitarian need. The NSMVs can also provide needed roll-on/roll-off and container storage capacity for use during disaster relief missions.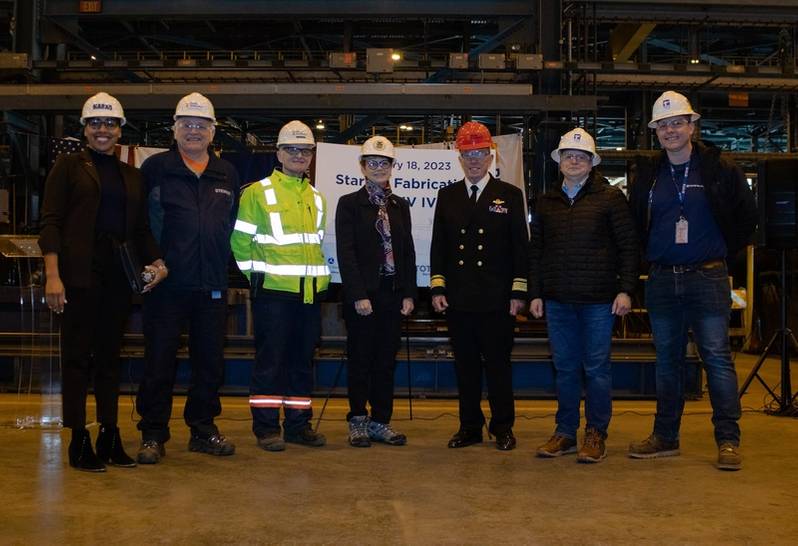 (Photo: Philly Shipyard)
"Today, marks another significant milestone for TOTE, the Maritime Administration, and the maritime industry as whole," said Maritime Administrator Ann Phillips (Rear Admiral USN, Ret.). "These NSMV's will play a crucial role in the maritime industry – providing future generations of mariners a world-class platform for training and serving as an exceptional resource for emergency response and homeland security for the nation."
"TOTE Services is proud to join MARAD, Philly Shipyard, and the Texas A&M Aggies to celebrate the start of construction of this new vessel that will be used to help train the next generation of officers at the only maritime academy on the Gulf Coast," said TOTE Services President Jeff Dixon. "This vessel will vastly enhance Texas A&M's degree programs and give the Academy a ship that can hold its entire program in a single cruise, providing cadets the opportunity to become skilled in ship-handling, decision-making, and unexpected challenges with the type of comradery that cannot be replicated in a classroom."
"We are proud to welcome cadets and staff from Texas A&M Maritime Academy to our shipyard in celebration of the official start of fabrication on their new training vessel," said Steinar Nerbovik, President and CEO, Philly Shipyard. "With this milestone event in the NSMV program, we now have four ships under active construction and strong backlog into the future. I want to thank everyone involved in this project across the board, including all of our advocates, our partners at MARAD and TOTE Services, our suppliers, and of course the staff and workers around me who are supporting and constructing these important vessels that will build America's maritime future."
"This is a significant milestone for Texas A&M University at Galveston, home to the Texas A&M Maritime Academy," said Col. Michael E. Fossum, Vice President of Texas A&M University, Chief Operating Officer of the Galveston Campus and Superintendent of the Texas A&M Maritime Academy. "Having the ability to live, learn and train together on a world-class, specialized training vessel is essential to meeting our mission in educating and training merchant mariners who go on to serve in both our armed forces and the maritime industry. We're incredibly grateful to MARAD, TOTE Services, and Philly Shipyard for their stewardship of the NSMV program."