Østensjø Rederi Orders Four Newbuilds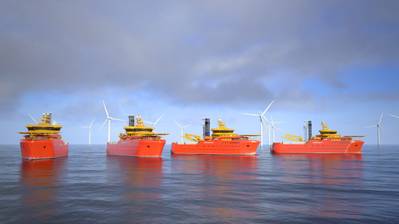 Aiming to meet increasing demand in the offshore wind market, Norwegian owner Østensjø Rederi said it has signed a letter of intent (LOI) for the construction of four commissioning service operation vessels (CSOV) to be built at at the Astilleros Gondán shipyard in Spain for delivery from 2022.
Designed by Salt Ship Design in Norway, the 88.3-meter-long vessels will be utilized for service operations during the commissioning and operation of offshore wind farms. The newbuilds, to be delivered early 2022 and onwards, will serve as mother ships for wind turbine technicians as they perform commissioning and maintenance work on offshore wind turbines.
"Significant growth is expected in the offshore wind market over the next decades, and we are confident these CSOVs will be the optimal and preferred tool for our clients," said Kenneth Walland, CEO of Østensjø Rederi
"Østensjø Rederi has been working in the offshore wind market since 2016, and with the delivery of our first two service operation vessels (SOV) in 2018, the company has established itself as a major player in this market. In addition to our existing vessels, both on long term contracts with Ørsted, the four newbuildings will further strengthen our market position in offshore wind."
The vessels are equipped with a battery hybrid propulsion system, which together with other energy saving equipment will reduce emission of greenhouse gases by at least 30%, according to Østensjø Rederi. The generators on board are IMO tier 3 certified. Together with partners, Østensjø Rederi is working on developing new technologies based on hydrogen as a safe and efficient energy source. The newbuildings are prepared for future installation of this novel technology, which will turn the CSOVs into zero emission vessels without compromising operational capabilities. Such focus on and investment in environmentally friendly solutions will be possible with Norwegian governmental support schemes to green shipping projects.
"We are proud to present these low-emission vessels to the market. For Østensjø Rederi it is important to continuously push the development of environmentally friendly technologies. We firmly believe our new CSOVs will be the first zero emission vessels in this market," Walland said.
Cabins and common areas will be equipped to accommodate up to 97 technicians and 23 marine crew, 120 persons in total. Anti-heeling and roll reduction systems will provide a stable working platform, and the motion compensated gangway system with an adjustable pedestal will ensure safe and efficient connections to the turbines, Østensjø Rederi said.