Strategic Marine's Compact Crew Boat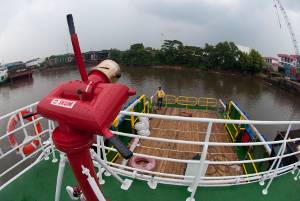 With literally dozens of their high-speed vessels already working, Australian-based Strategic Marine continues production in several shipyards. A recent visit to Strategic Marine's Singapore shipyard revealed their compact 91.8-ft 23-ft version ready for work while three sisters were taking shape in the building shed.
With a molded depth of 9.88 ft, the Peacock Satu has capacity for up to 60 passengers and accommodation for eight crewmembers. Tankage is provided for 20,000 liters of fuel and 5,000 liters of water. The aft deck provides 39.3 ft of length and nearly the full beam for deck cargos. The vessel's total design deadweight is 13 tons.
A pair of Cummins KTA38-M3 main engines, each producing 1350 HP at 1900 RPM, turn open propellers through Twin Disc MGX669-SC gears with 2.47:1 ratios. The IMO Tier 2 compliant propulsion package will give the vessel a light running speed of 22 knots. The well laid out engine room also contains a pair of Cummins 6BTA5.9(D)M powered 91 kW generator sets. A Cummins 6CTA 8.3-liter engine, generating 430 HP at 2600 RPM, provides 600 cubic meters of water per hour to a SKUM fire monitor mounted on the cabin top aft of t
he wheelhouse
.