Students Asked to Name One of Canada's Largest Cranes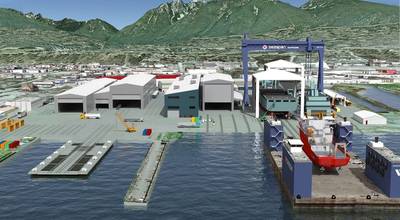 With Canada's largest permanent Gantry Crane now safely offloaded at its new North Shore location, Seaspan announced today it has partnered with the North Vancouver School District (NVSD) to conduct an official "Crane Naming Contest."

From March 3-14, 2014, Seaspan is calling on all Grades 4-7 students in NVSD, to put their thinking caps on, come up with their one best idea in two words or less, and help cement their spot in the history of Vancouver Shipyards.

"The arrival of our new 300-metric-ton Gantry Crane marks a major milestone in Seaspan's Shipyard Modernization Project and the future of the North Vancouver community as a whole," said Brian Carter, President of Seaspan Shipyards. "No construction project is complete without creative inspiration, and I personally can't wait to see some of the great names that are sure to be submitted."

More than 4,400 students from 25 schools across North Vancouver are being asked to put on their best crane-naming brain for a chance at a grand prize that includes a new iPad Air. The prize will be presented at an official naming ceremony at Seaspan that includes classmates and family members. The winning name will also be permanently displayed on the crane.

"We're pleased to be able to facilitate this contest for our intermediate students," said Franci Stratton, Chair of the North Vancouver Board of Education. "Seaspan is a long-standing supporter of the School District's work experience and career programs for secondary students. This is an exciting opportunity for our younger students, and we look forward to the creative thinking it inspires."

Further details on the contest's rules and regulations, including how to download the official entry form, are available online at www.seaspan.com in the News & Media section.

Once erected, the crane will be the biggest of its kind in Canada, towering 80 meters high and spanning 76 meters wide. Assembly, hook-up, testing and commissioning of the crane is estimated to take place over the next several months, with completion targeted for this summer.

The crane is a critical component of Seaspan's Shipyard Modernization Project, a two-year, $200 million project, which began construction in October 2012 and is scheduled to be finished in the fall of 2014. Once complete, the new state-of-the-art facilities will allow Seaspan to efficiently deliver Non-Combat Vessels for the men and women of the Royal Canadian Navy and Canadian Coast Guard.