Study Takes Cruise to Task on Emissions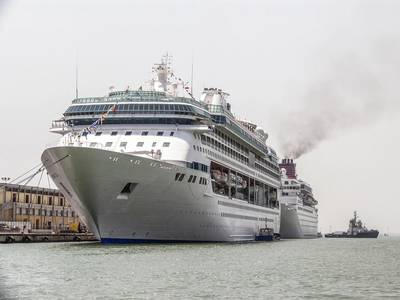 A report entitled "An investigation of air pollution on the decks of 4 cruise ships" studied levels of Particulate Matter (PM) on the decks of four separate cruise ships. While many studies have evaluated the potential impact of ship emissions in port cities, the author – Ryan David Kennedy, PhD, MAES, Department of Health, Behavior & Society, Johns Hopkins University, Bloomberg School of Public Health – said in the report that "little is known about how ship engine exhaust may impact the air quality on the deck of a ship. This is of concern because tens of millions of passengers take cruises every year, and tens of thousands of people are employed on cruise ships."
The study measured the concentration of PM (particles with sizes between 0.02-1.0 µm) on the deck of two Carnival Cruise Line ships in the Caribbean during October 2017 (Carnival Liberty) and April–May 2018 (Carnival Freedom); on the deck of a Holland America ship (MS Amsterdam) that traveled along the west coast of Canada and the U.S. during October 2018, and the deck of a Princess ship (Emerald) that traveled along the west coast of the U.S. and Mexico during November 2018. Measurements were taken inconspicuously in the bow area (fore of the smokestacks), as well as in two areas in the stern, aft of the ship's smokestack including areas designated for exercise (running tracks, basketball court).
The study found that the average PM readings in the stern areas of each ship were significantly higher than the average readings measured fore of the smokestacks (towards the bow) (paired t-tests, alpha 0.05). The findings of this study demonstrate that a source of PM—likely, in part from the ship's exhaust system—is contributing to poorer air quality in the stern areas of these cruise ships. Concentrations of PM on the decks of these ships are comparable to concentrations measured in polluted cities, including Beijing and Santiago.
The report contends that, despite being on the open water and in open air, vacationers and cruise ship staff may be exposed to elevated concentrations of PM.

Information excerpted, in part, from:
SOURCE: Kennedy, RD., An investigation of air pollution on the decks of 4 cruise ships
A report for Stand.earth, January 24, 2019.