By the Numbers: Subchapter M Statistics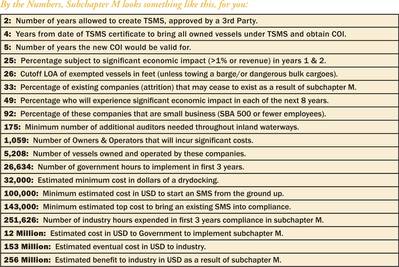 The Coast Guard and Maritime Transportation Act of 2004 (Aug. 9, 2004), established new authorities for towing vessels. Out of that came a proposed regulatory scheme requiring towing vessels to become inspected vessels and obtain a Certificate of Inspection (COI). The proposed Subchapter M for title 46, U.S.C., covering Certification, Vessel Compliance, Towing Safety Management System (TSMS), Third-Party Organizations, Operations, Life-Saving, Fire Protection, Machinery and Electrical Systems and Equipment, and Construction and Management of towing vessels is now in draft form. Looking ahead, the Coast Guard refuses to speculate about rulemaking timelines but the Assistant Commandant for Prevention Policy, Rear Admiral Joseph A. Servidio, told MarineNews in April, "We are working to finalize this rule as soon as possible, and may make some adjustments to what was in the NPRM, but cannot talk about possible changes or timelines at this time." Data, in part derived from estimates put together for the Coast Guard themselves, from the American Bureau of Shipping Group and the Towing Safety Advisory Committee (TSAC), and based upon the NPRM, is illuminating.
The cost of a Safety Management System, assuming that it is not already in place, will be hefty. Indeed, the estimated potential cost for a TSMS could reach as much as $2.9 million for an average towing company.
The Coast Guard touts the coming rules as something that will (a.) address a wide range of causes of towing accidents, (b.) Improve safety within the towing industry, (c.) decrease the risk of towing vessel accidents and (d.) significantly reduce the number of fatalities, injuries, property damage and oil spills. If so, the cost is probably worth it. But, if you are looking at coming up to speed from baseline, that's of little consolation. Nevertheless, it is time to get ready.
(As published in the May 2013 edition of Marine News - www.marinelink.com)