Corvus Energy Supplies Battery Pack, Systems, to 'Viking Lady'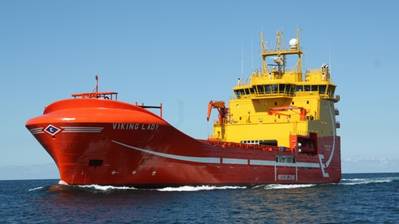 Corvus Energy supplies world's first commercial ship with a fuel cell specially adapted for marine use.

Following the success of the installation and demonstration of the fuel cell power pack on board, Viking Lady recently entered into a third project phase in which energy storage capability in the form of Corvus' AT6500 lithium-polymer battery pack is being integrated in the power system.

The lithium-polymer battery is comprised of 6.5 kWh modules, has a capacity of 455 kWh, and is capable of delivering up to 4MWh bursts over a short period of time. "Having our product win its place on the Viking Lady is a tremendous validation of Corvus Energy's approach to working with key marine industry partners such as Wärtsilä for the next generation of drive and storage systems," said Brent Perry, Corvus Energy's CEO.

"Not only can our product perform on the same level as fuel driven propulsion systems, with this installation Corvus will prove it can successfully add to the bottom line of the commercial marine industry. We are pleased that our battery solution is being installed on this groundbreaking fuel cell and battery hybrid ship."

"With her innovative fuel cell technology and extremely advanced systems integration, Viking Lady required a reliable, robust and extremely energy dense energy storage solution," said Wärtsilä's Bjørn Roger Haugen, Power Drive Specialist, Ship Power Technology. "Corvus Energy's battery packs and battery management system allows us to optimize the benefits of energy consumption in a true hybrid energy system."

The project, also known as FellowSHIP ⎯ a series of joint industry R&D projects experimenting hybrid energy systems, comprising fuel cells, gas engines and batteries on board vessels and offshore platforms ⎯ points to a cleaner and greener future for shipping with a significant potential to reduce CO2 emissions (up to 50%) and improve energy efficiency (up to 30%) when compared to conventional power generators.