Survitec, Evacuator Inks Deal for Global Distribution Rights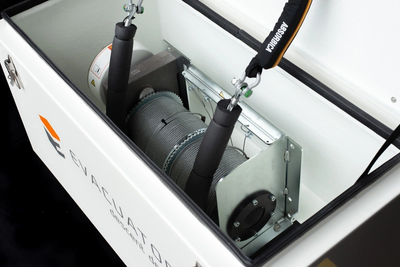 Survitec has signed a partnership agreement with Netherlands-based manufacturer Evacuator Worldwide for the global distribution rights to the pioneering emergency descent system introduced to the market in April.
Evacuator, the first fire-proof and panic proof emergency descent system designed to evacuate people from heights of up to 300m, will be solely marketed and distributed by Survitec across all industry sectors. Survitec will also provide after-sales service, training and installation support to Evacuator customers.
Available with a range of steal cable lengths and evacuation capacities, the Evacuator offers a simple "click-on-and-go" mechanism that automatically controls the descent at a speed of one meter per second.
The message both Survitec and Evacuator are giving to any wind operator when investing in evacuation equipment is "no matter what you are purchasing you must trust in your evacuation technologies, and ensure they are fit for purpose".