Survitec's SOLAS 360 at Seawork International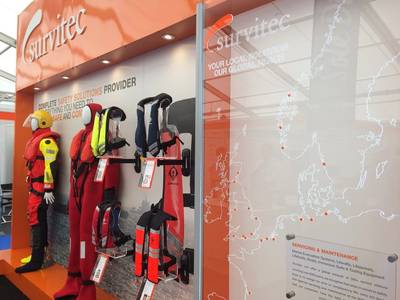 Safety solutions provider Survitec is returning to Seawork International in Southampton from July 3-5, a year after winning the Spirit of Innovation award at last year's event.

The focus of Survitec's stand this year will be SOLAS 360; a brand-new concept aimed at improving overall safety levels through offering the products and services required in a holistic and consistent manner, available through one supplier.

SOLAS 360 includes lifeboats, liferafts, personal lifesaving appliances, first aid and medical equipment, emergency communication devices, as well as fire detection, protection and extinction systems. Displayed on the Survitec stand will be showcased products from these sectors including liferafts, survival suits, lifejackets, and firefighting personal protective equipment.

Survitec has a long and proud history across the marine, offshore, defence and aviation sectors and SOLAS 360 represents the first time it has offered products from across its entire range together in one complete package agreement.

Survitec will also have a team on hand to explain the benefits of the lifeboat inspection program it enhanced at the end of 2017. Adding extra engineers at various sites worldwide improved the scheme's local reach, offering customer's added convenience and meaning Survitec has qualified technicians on the ground on five continents.

The safety provider will also have a SLA 3.5 Combined Davit Launched Liferaft and Rescue Boat Automatic Release Hook (SLA 3.5) on display, a quick and cost-effective solution for operators mindful of the lifeboat re-hooking deadline on 1st July 2019.

In addition to exhibiting at the event, Survitec will also support Seawork through a number of patronage initiatives. It is sponsoring the drinks reception hosted by the Society of Maritime Industries (SMI) at 3pm on Wednesday 4th July and will also have a strong presence outside the exhibition hall, including branding of the Seawork Harbor Manager's headquarters.

Survitec is also ensuring the safety of the Seawork Harbor Managers by providing them with Crewfit 150N HF lifejackets which have heavy-duty covers, external reflective tape and indicator windows – making them perfect for use by the team while working on the Seawork pontoons.