CTF 151, First Suspected Pirate Capture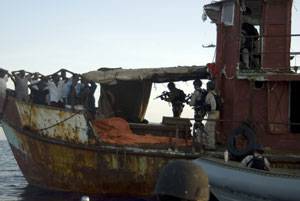 Ships from Combined Task Force (CTF) 151 prevented a piracy attack in the Gulf of Aden, which resulted in the apprehension of more than a dozen suspected pirates aboard an alleged mothership May 13.

At approximately 3:30 p.m., the Republic of Korea Destroyer, ROKS Munmu the Great (DDG 976) and guided missile cruiser USS Gettysburg (CG 64) responded to a distress call from the Egyptian-flagged Motor Vessel Amira, which reported being attacked approximately 75 nautical miles south of Al Mukalla, Yemen.

Several assault rifle rounds and one rocket propelled grenade round struck M/V Amira resulting in little to no damage to the ship. A rope was thrown from the skiff in an attempt to board, but the attempt failed and the suspected pirates abandoned their attack.

Gettysburg and Munmu the Great launched their embarked helicopters which flew immediately to Amira's location. During its flight, the SH-60B helicopter assigned to Helicopter Anti-submarine Squadron Light (HSL) 46 located a dhow suspected of serving as a pirate "mothership" with approximately 17 people on board.

A Gettysburg visit, board, search and seizure (VBSS) team boarded the suspected "mothership" along with members of U.S. Coast Guard Law Enforcement Detachment (LEDET) 409 and apprehended the suspected pirates after finding eight assault rifles, a rocket-propelled grenade launcher and one rocket-propelled grenade. All 17 of the passengers were brought on board Gettysburg for further questioning.

"This is another clear example of how coordination between the Combined Maritime Forces resulted in the successful disruption of pirate activity," said Royal Navy Commodore Tim Lowe, deputy commander of the Combined Maritime Forces. "It is imperative that all maritime forces continue to synchronize their efforts to deter and disrupt these unlawful and aggressive acts."

Gettysburg and Munmu the Great are operating in support of CTF 151, a multinational task force established to conduct counterpiracy operations under a mission-based mandate throughout the CMF area of responsibility to actively deter, disrupt and suppress piracy in order to protect global maritime security and secure freedom of navigation for the benefit of all nations.