Sustainable Ocean Summit 2013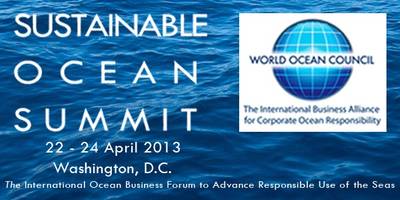 The Sustainable Ocean Summit 2013 (SOS 2013), organized by the World Ocean Council (WOC), is an international ocean business community gathering dedicated to industry leadership and collaboration in developing solutions to ocean sustainability challenges.

Washington D.C. - April 22-24, 2013

The theme of SOS 2013 is "Oceans 2050–The Ocean Business Community and Sustainable Seas." The SOS is designed for the diverse range of ocean industries: shipping, oil and gas, fisheries, aquaculture, tourism, offshore renewable energy, ports, dredging, mining, cables and pipelines, marine science, engineering and technology, the maritime legal, financial and insurance communities and others. If space permits, SOS is also open to ocean stakeholders from the government, inter-governmental, academic and environment communities.

SOS 2013 will address priorities for cross-sectoral industry leadership and collaboration in ocean sustainability over the coming years, including ocean policy, regulations and governance; marine spatial planning; the role of industries in ocean and climate observations; biofouling, biosecurity and invasive species; responsible use of the Arctic; sound and marine life; marine debris; marine mammal interactions; the role of finance, insurance and legal sectors in ocean sustainability.

Sustainable Ocean Summit 2013 Session Topics
-Smart Ocean/Smart Industries: Scaling Up Industry Observations of Ocean, Weather and Climate
-Ocean Policy and Ocean Industries in International Waters
-Marine Spatial Planning
-Sound and the Marine Environment
-BioFouling and Invasive Species
-Responsible Cargo Management and Port Waste Reception
-The Arctic: Challenges and Opportunities for Responsible Industries
-Marine Ecosystem Services and Blue Carbon
-Climate Change and Sea Level Rise: Port and Coastal Infrastructure Adaptation
-Financing Innovation and Technology for Ocean Sustainability
-PRE-SOS WORKSHOP: Oceans 2050: Drivers, Trends and Scenarios for Ocean Industries and Sustainable Seas

A panel of senior executives from oil and gas, shipping, fisheries, aquaculture, offshore renewable energy, and science and technology will start the SOS 2013 with the Ocean Executive Forum on industry leadership and collaboration. The multi-industry panel will consider private sector challenges and opportunities for Corporate Ocean Responsibility while at the same time responding to the growing need for ocean energy, food, transport and information.

Sustainable Ocean Summit 2013 Panelists
-Steve Carmel, Senior Vice President, Maersk Line Ltd (shipping)
-Jeffrey Grybowski, CEO, Deepwater Wind (offshore renewable energy)
-Gary Isaksen, Manager, Global Ocean Science and Policy, ExxonMobil (oil and gas)
-Robert Orr, CEO, Cuna del Mar (aquaculture)
-Mikael Thinghuus, CEO, Royal Greenland (fisheries)
-Dawn Wright, Chief Scientist, ESRI (science/technology)

Preceding the SOS 2013, the unique workshop on "Oceans 2050–Drivers, Trends and Scenarios," held on April 22, will provide input to the Ocean Executive Forum. Leadership companies are invited to this half-day workshop which will identify the constraints and opportunities affecting future ocean operations and the scenarios for responsible use and sustainable seas in coming decades.

For more information on the Sustainable Ocean Summit 2013 and the World Ocean Council visit www.oceancouncil.org.