'Engine as a Weapon' Symposium Planned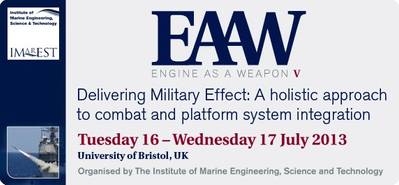 Organised by the Institute of Marine Engineering, Science & Technology (IMarEST) the programme for the 5th Symposium is published.
The symposium programme for the fifth 'Engine As A Weapon Symposium (EAAW V)', with its theme 'Delivering Military Effect: A holistic approach to combat and platform system integration', and featuring presentations by experts in combat and platform system design from home and overseas has now been published.
Dr Mark Townley, Combat Systems Director, BAE Systems Maritime – Naval Ships will deliver the keynote address on the opening morning of the symposium.
Organised by the Institute of Marine Engineering, Science and Technology (IMarEST) and being held Tuesday 16 – Wednesday 17 July 2013, at Wills Hall, University of Bristol, UK, the biennial EAAW series provides an acknowledged and exceptional opportunity for delegates and speakers from navies and commercial companies to expose and explore the integration challenges. EAAW V will build upon the success of the four previous events in the series, and provides a forum for information exchange, much needed analysis, debate and networking.

"This year's EAAW will certainly reflect the changing and uncertain nature of the maritime threat, as the defence community in all its guises, seeks to find cost effective solutions and solve integration challenges," explains Cdr Matt Bolton RN, chairman of the two-day symposium. "It is again very pleasing to see the high level of global interest in EAAW, with synopses received from numerous international contributors on a range of interesting topics.

"There is no doubt that the advent of Integrated Full Electric Propulsion (IFEP) has enabled electrical power to be harnessed for military effect in a highly networked environment. Technology development and platform design cannot prevail in isolation, and highly integrated systems are inevitable if affordable and adaptable solutions are to be exploited."

The EAAW V Programme
Following the welcome by Cdr Bolton and the keynote address by Dr Townley, Cdr Neil Gibbs and Cdr Jeremy Bailey, Ministry of Defence will ask the all-important question "The Ministry of Defence Marine Systems Development Strategy: A vehicle for fully harnessing the resources we have?"

Graham Wallis, MBDA then chairs the 'Future Platform Systems' session before the networking lunch on the first day, after which Lt Cdr Ian Hassall RN, Ministry of Defence takes the chair for the afternoon session on 'Military Effect' At the end of the first day a reception and symposium dinner will take place in the magnificent Dining Hall at Wills Hall.

The second day of EAAW V sees Lt Stefan van Osch RNIN, Ministry of Defence, UK chair the session devoted to 'Complex System Integration' throughout the morning; and after the networking lunch 'Future Combat Systems' come under the conference spotlight in a session chaired by Oliver Simmonds, GE Power Conversion. The conference ends after the Symposium Summary Rear Admiral Nigel Guild CB FREng, a Past President of The Institute of Marine Engineering, Science and Technology.

For more information, registration, click here.