Tanker Crewman Medevaced off Alaska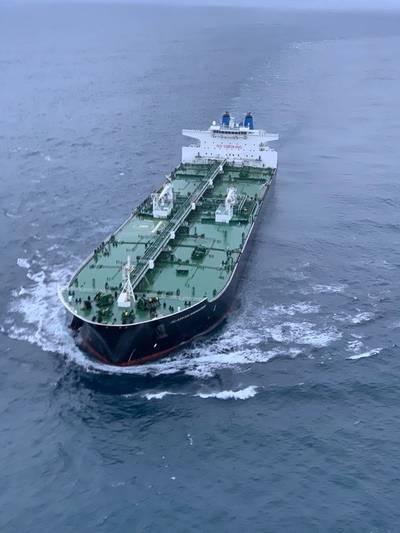 The U.S. Coast Guard medevaced a man Thursday from a U.S.-flagged oil tanker approximately 170 miles southwest of Cold Bay.
A Coast Guard MH-60 Jayhawk helicopter crew from Air Station Kodiak hoisted the ailing man at about 8 a.m. and flew him to Cold Bay where he was placed in the care of an awaiting LifeMed aircraft crew.
Coast Guard watchstanders in the 17th District command center in Juneau received the request at about 1 p.m. Wednesday to hoist the 61-year-old man experiencing abdominal pain from the 905-foot Alaskan Navigator, which was en route from Valdez to China, and approximately 270 miles southwest of Unalaska.
The Coast Guard requested that the Alaskan Navigator change course in order to meet the Coast Guard helicopter for the hoist.
The aircrew launched from Kodiak Wednesday, landed in Cold Bay to refuel, and launched to conduct the medevac at first light Thursday.
Approximate conditions at the time of the hoist included partly cloudy skies, 20 mph winds, 10-foot seas, an air temperature of 40 degrees and a water temperature of 43 degrees.
Operational flights of Coast Guard aircraft continue as required, and crews and aircraft are ready to respond to any requests for assistance.
During the planning phase of every search and rescue or medical evacuation mission, Coast Guard District 17 follows protocols to determine potential survivor exposure to COVID-19. Air Station Kodiak maintains appropriate personal protective equipment for aircrews during missions and has decontamination procedures and equipment for the crews and aircraft upon their landing. This capability is deployable anywhere Coast Guard aircraft can land.