Almi Tankers Evolve Suezmax Design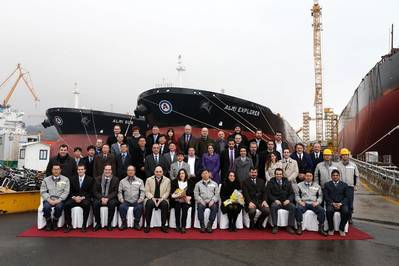 Almi Sun and Almi Explorer were delivered by Daewoo Shipbuilding and Marine Engineering Shipyard, Geoje Island, Korea and have commenced their operational lives.

These ships are a further development of Almi Horizon delivered back in 2011. The latest deliveries have electronically controlled main engines, each turning a slightly larger propeller and they benefit from pre-swirl stators to further enhance energy efficiency.

The ships have been verified by LR in accordance with the voluntary energy-efficiency requirements of the IMO's Energy Efficiency Design Index (EEDI) for new ships. They are equipped with a UV ballast water treatment system and feature an Inventory of Hazardous Materials (IHM) in accordance with LR's IHM service.

The design complies with IACS's Common Structural Rules and the ships were constructed in accordance with ShipRight Construction Monitoring procedures, while the accommodation arrangements comply with the Maritime Labor Convention (MLC, 2006).

Almi Sun and Almi Explorer were also designed to be built to LR's Environmental Protection 'EP' notation, which recognizes their enhanced features and demonstrates the operator's commitment to, and investment in, environmentally friendly ships. The ships have also been enrolled in LR's Ship Emergency Response program.

Almi Tankers has been certified by LR for compliance with the OHSAS 18001, ISO 14001, ISO 9001 standards which recognize companies dedicated to excellence in relation to health and safety, the environment and quality. Almi Tankers also gained recognition according to the Investors in People standard, which demonstrates commitment to growth and to improving business performance through the development and recognition of people on all levels.