Tech File: USV Delivered to U.S. Navy for LCS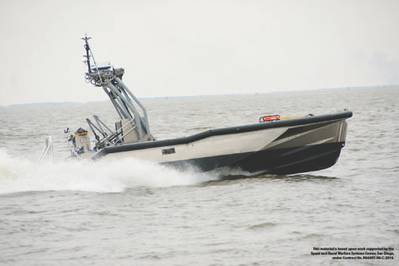 In May, General Dynamics Robotic Systems delivered the first 11-meter Fleet class Anti-Submarine Warfare Unmanned Surface Vehicle (ASW USV) to the U.S. Navy as part of the Littoral Combat Ship (LCS) mission package. General Dynamics said the ASW USV operates and supports payloads and sensor systems, including an unmanned towed-array sonar system and an active multi-static offboard low-frequency sonar system. It is aimed to provide a high-speed, high-payload capable craft with sea keeping characteristics, along with a state-of-the-art unmanned navigation and autonomous control capability that includes 360-degree situational awareness.
The USV has a payload capacity of 5,000 lbs., beam length of 11.2 ft. and is capable of operating continuously for 24 hours or more. During high-speed transits the vehicle can reach speeds of 35 knots or higher. A bow latch will launch and recover the unmanned surface vehicle from the LCS. As a semi-autonomous vehicle, the USV is capable of way-point navigation, sea keeping and station keeping. To fulfill its mission, the LCS-based ASW USV performs the Maritime Shield, Protected Passage and Port Reconnaissance ASW missions to protect Navy surface ship battle groups.
In July 2007, the Navy rolled out the USV Master Plan, a plan that was intended to serve as a road map for Navy USV development. As stated in the Navy's plan, "Unmanned systems have the potential, and in some case the demonstrated ability, to reduce risk to manned forces, to provide the force multiplication necessary to accomplish our missions, to perform tasks which manned vehicles cannot, and to do so in a way." Because of reduced risk to manned forces, USVs' capabilities are optimal in the integration of the LCS mission package.
A second USV was expected to be delivered to in , in June. These USVs are the first unmanned surface vehicles to ever receive hull numbers from the Navy, and will be known as 11MUC0601 and 11MUC0602, respectively.
In July, General Dynamics Robotic Systems received a contract from the Office of Naval Research to develop the Common Launch and Recovery System for use on the Littoral Combat Ship.
The Navy's USV Master Plan can be viewed here http://www.navy.mil/navydata/technology/usvmppr.pdf
(Reprinted from the August 2008 edition of MarineNews)