Cargotec Make Deal on Technology & Competence Center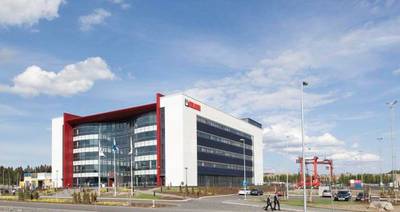 W. P. Carey Inc., a provider of corporate sale-leaseback financing, has acquired the R&D and class-A office facilities of Cargotec Corporation in Tampere, Finland.
The premises are subject to a 20-year triple-net lease with the company. The total acquisition cost of the 183,569 square foot facility was approximately $52 million (€40 million).

The facility was completed in December 2012 as a "Technology and Competence Center" dedicated to research and development of energy-efficient, safe and intelligent machinery and automation solutions. The facility is located in an established office and industrial region of Tampere, near the Tampere University of Technology, the leading technical university in Finland. Tampere is the largest inland city in the Nordics and the third largest city in Finland.

Arvi Luoma, Director of W. P. Carey, said, "Cargotec is a leading global industry player which is well capitalized and has remained profitable, despite the financial crisis. The Technology and Competence Center we've acquired is located in a key industrial and office region in Finland and is very significant to the company's business. We are pleased to support Cargotec's future growth through our investment in these facilities while at the same time adding long-term, income-generating assets to our portfolio and investing in a AAA-rated country."

Celebrating its 40th anniversary, W. P. Carey Inc. is a publicly traded company that provides long-term sale-leaseback and build-to-suit financing for companies worldwide and owns and manages an investment portfolio totaling approximately $15.2 billion.