New Exhaust Gas Sensor Technology Goes to Market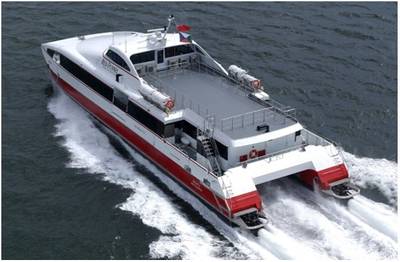 With market testing now complete, new exhaust gas sensor technology from remote marine data monitoring company Azurtane Limited will go to market.
From its new company headquarters in Southampton, Azurtane will market sensor technology for ships developed with support by the UK government under the Innovate UK program.
Azurtane began trialing its exhaust gas sensing equipment with Southampton-based ferry company Red Funnel in 2013. The project involved second-by-second measurement of the fuel used on each voyage of the Red Jet 4 Hi-Speed ferry service between Southampton and Cowes. The fuel measurements uncovered massive variations in fuel consumption which were discovered to be due to the way in which the vessel was "driven". Red Funnel adopted Azurtane's technology and, as a result, reduced fuel consumption by up to 15 percent per day.
"Azurtane technology helped Red Funnel cut operating costs as well as keep fares low," said Azurtane's chief scientist, Dr. Henryk Herman. "Red Funnel ferry masters really took to the new technology and were motivated to reduce fuel burn which is costly and increases CO2 emissions."
Red Funnel's newest vessel has also been made ready to utilize the same Azurtane technology to allow both the master and the
Red Funnel office
to monitor fuel consumption in
real time
and make adjustments to save money.
Azurtane uses its exhaust gas sensors installed on ships to transmit measurements back to Southampton. The company converts the data into useable management information for ship operators and the ship's officers on board the transmitting ship. This information can pinpoint noncompliance with pollution regulations, identify the actions that need to be taken, compare voyage by voyage energy consumption and ascertain the adjustments required to improve efficiency.
"Until now ships have been sailing blind," Dr. Herman explains. "Big data can either be seen as the latest management gimmick or be used to identify trends and patterns in inefficiencies in a sea of conflicting and confusing external factors."