Tellurian Fixes Maran LNG Carrier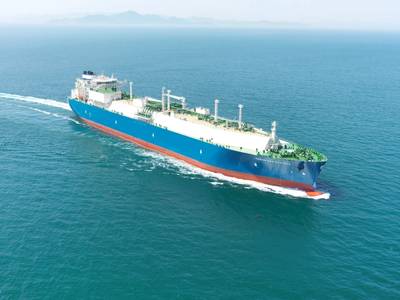 A wholly-owned subsidiary of Tellurian has entered into a six-month time charter contract with Maran Gas Maritime for a liquefied natural gas (LNG) tanker, the Maran Gas Mystras. Tellurian took delivery of the tanker at Galle, Sri Lanka on October 1, 2017.
President and CEO Meg Gentle said, "At Tellurian, we are building a global
natural gas business
and proactively shaping the company to build long term value amid a robust and dynamic market. As winter approaches, we will begin buying and delivering LNG on the Maran Gas Mystras, one of the most efficient vessels in the Maran Gas fleet.
Developing our LNG marketing capabilities now prepares us to be one of the most flexible, competitive, and reliable LNG suppliers when Driftwood LNG begins operations in 2022."
Built in 2015, the Maran Gas Mystras is a tri-fuel diesel electric (TFDE) propulsion vessel with 160,000m3 of storage capacity. It is owned by Maran Gas, the gas shipping unit of the
Angelicoussis Shipping Group
, a private company founded in 1947 and based in Athens, Greece.
Tellurian was founded by Charif Souki and Martin Houston and is led by President and CEO Meg Gentle. Tellurian is building a natural gas business that includes development of the Driftwood LNG terminal, a ~ 26 mtpa LNG export facility, and an associated pipeline.
Tellurian intends to create value for shareholders by developing low-cost natural gas-related infrastructure, profitably delivering natural gas to customers worldwide and pursuing value-enhancing, complementary business lines in the energy industry.