New US Warship 'Anchorage' Homeports for Thanksgiving Day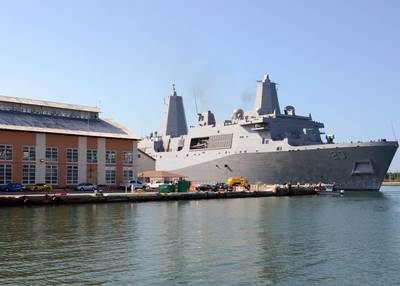 The amphibious transport dock Pre-Commissioning Unit (PCU) 'Anchorage' (LPD 23) arrives at her new homeport of San Diego.

Anchorage, under the command of Capt. Brian Quin, departed Huntington Ingalls Industries (HII) Shipbuilding site in Avondale, La. Oct. 30 to sail to its new home port. 


During its journey, the ship transited the Panama Canal. With a beam measuring 105 feet, Anchorage, a San Antonio-class LPD, is among the largest class of ships able to safely pass through the canal, whose locks measure 110 feet across. The ship completed the transit in 13 hours. The crew also made a port visit to Manzanillo, Mexico.

Anchorage is the seventh San Antonio-class amphibious transport dock and was delivered to the U.S. Navy Sept. 17. The ship will be commissioned in May in her namesake city of Anchorage, Alaska and is the second ship to be named for the city.



The ship's primary mission is to embark, transport and land elements of a U.S. Marine Corps landing force in a variety of expeditionary and special operations capable missions using expeditionary fighting vehicles (EFVs); landing craft, air cushion (LCAC); tilt-rotor MV-22 Ospreys and CH-46 Sea Knight helicopters.