King Abdullah Port Throughput up by 14% In H1 2017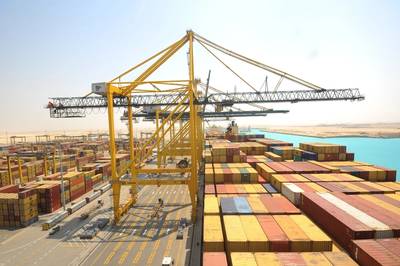 King Abdullah Port announced the increase of its throughput to 821,694 TEU in the first half of 2017, representing an increase of around 14% compared to the same time last year, where the throughput was 720,483 TEU. The port also announced an increase in the number of vessels received during the same period, reaching 398 vessels compared to 349 in the first half of 2016, also representing a 14% increase.
In its report on the merchandise exports and imports of the Kingdom, the General Authority for Statistics revealed that the imports of King Abdullah Port increased by 60.7% in May 2017, increasing the value of imports to SR1,277 million compared to SR795 million in May 2016.
"These numbers clearly indicate the success of King Abdullah Port as the latest infrastructure megaproject in the
Middle East
," said Eng. Abdullah M. Hameedadin, Managing Director of the Ports Development Company, owner and developer of King Abdullah Port. He continued: "King Abdullah Port is built according to state-of-the-art specifications and is designed and executed to cope with the Kingdom's commercial and economic growth in the coming decades. With its advanced equipment and impressive numbers, the port is able to effectively contribute to the Kingdom's prosperity and revival, fulfilling its desired role in contributing to the realization of Vision 2030."
Hameedadin continued, "We are cooperating with all relevant entities to support the port's progress and finalize all its facilities. For example, we recently announced the completion of building and equipping the central operating room for monitoring and linking together the x-ray customs inspection systems in the port. In addition, we also covered all customs inspection areas with a wireless network utilizing the latest global technology."
"The project was successfully delivered to the Saudi Customs at King Abdullah Port, making the port a pioneer in equipping the central operations center and activating the 24-hour container inspection initiative," he concluded.
In its report on the world's top 100 container ports published in the first quarter of 2017,
Alphaliner
, the world's leading port data analysis company, announced that King Abdullah Port made its way to the list in 98th place after increasing its annual throughput by around 8%, from 1.3 million TEU in 2015 to 1.4 million TEU in 2016.
King Abdullah Port is the first privately owned, developed and operated commercial port in the Kingdom of
Saudi Arabia
. It is characterized by its strategic location, integrated services, state-of-the-art technology and utilization of local and international experts in order to provide the best services. The port has been listed as one of the world's largest maritime shipping destinations, with a development plan moving at a steady pace and a clear vision to become one of the top ports worldwide.