Digital Thruster Panel for Smooth Docking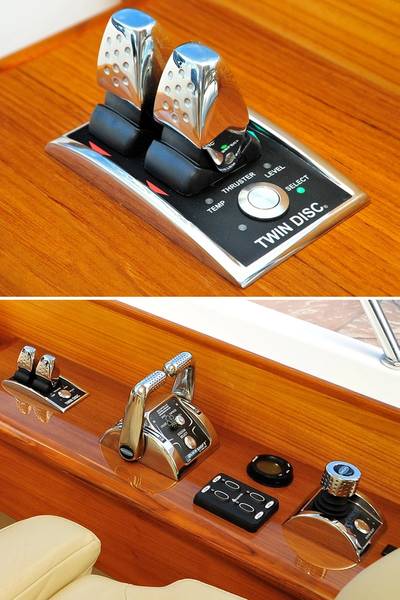 Twin Disc announces its new Digital Thruster Panel. The unit complements the company's EC300 Power Commander electronic propulsion control and Express Joystick System (EJS).
Built of polished stainless steel, the Digital Thruster Panel is engineered rugged for a marine environment, making it suitable for helms, flybridges and docking stations. The ergonomic toggles are sized for easy use. It is available in dual or single versions.

What sets the new panel apart is the reliability and speed of digital connectivity. With fingertip control, owners can effortlessly guide a boat into or away from a crowded dock. It provides proportional hydraulic speed control of bow and/or stern thrusters; the more the toggle is moved, the greater the thrust achieved.

Another feature is the hydraulic fluid warning lights. The unit continually monitors the thrusters' oil level and temperature, and will audibly warn of critical variances.
The Digital Thruster Panel interfaces with the EC300 control system to provide additional flexibility to owners of EJS-equipped boats. On a vessel equipped with Twin Disc's optional display panel, thruster commands are shown as easy-to-see bar graphs for quick visual reference.