Transocean Orders Kittiwake's Thrusterscan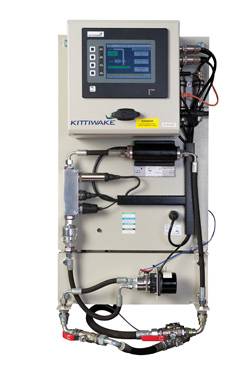 Kittiwake announced an order for its ThrusterSCAN product from Transocean. ThrusterSCAN marks a new era in online condition monitoring for azimuthing thrusters, helping to predict failure, enabling preventative maintenance and ultimately reducing costly downtime.
Kittiwake's ThrusterSCAN will be installed on Transocean's eight-thruster Development Driller III rig. ThrusterSCAN delivers early warning of thruster component damage, lubricant degradation and seal leaks/failures; providing critical information to help optimise thruster operating parameters and effectively manage overhaul schedules. Real time feedback ensures that any changes are highlighted as they start to occur, rather than at scheduled inspections when it may be too late to heed the warning and implement preventative measures.
Peter Pilon, CEO, Kittiwake Americas, commented: "We are delighted by today's announcement, which is a culmination of Kittiwake's development of on-line solutions for monitoring lube oil over the past decade. We have been fine-tuning our offshore application-specific ThrusterSCAN product for the last two years with detailed technical input and support from Transocean. Developed and tailored for particular requirements of the oil and gas industry, ThrusterSCAN provides essential condition monitoring information that enables rig operators to make confident decisions that optimize operations."
With current average day rates, the cost to oil and gas operators of any loss of productivity can quickly escalate. Exceeding the agreed levels of downtime during drilling operations impacts contractors' day rate revenue, and of course performance track records can provide competitive advantage. Simple to retrofit and compatible with existing condition monitoring systems, ThrusterSCAN continuously monitors wear debris, water ingress and oil quality. Trial data clearly demonstrates that Kittiwake's ThrusterSCAN product can both manage risk and reduce costs; maximising uptime and enhancing the drilling contractor's performance and subsequent returns.
Martin Lucas, Managing Director, Kittiwake Group commented:
"The appointment of Peter Pilon as Kittiwake Americas CEO last year and the opening of an office in Houston has provided a spring board to growth within the oil and gas market. This relationship with Transocean is testimony to the value delivered by our asset protection technology. Kittiwake continues to research and develop market-leading products that enable maintenance engineers to make fast and informed decisions in an industry where there is an increasing onus on operational efficiency and performance. To further demonstrate our ongoing commitment to the US' marine and offshore market, we are seconding our sensor systems specialist, Mike Dines, to Houston."
Despite the challenging financial climate, Kittiwake achieved 30% year-on-year growth in 2010. This latest announcement follows the recent acquisition of Procal, a provider of in-situ emissions monitoring technology and Holroyd, a specialist in acoustic emissions monitoring technology. Kittiwake continues to explore expansion strategies to achieve ambitious growth plans, with further significant announcements expected during the second half of 2011.