Thyssenkrupp, Wilhelmsen Create 3D Printing Firm of Maritime & Offshore Sectors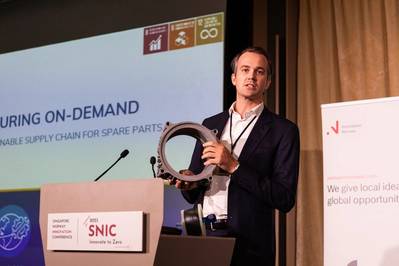 Wilhelmsen and Thyssenkrupp announced on September 29 their joint venture company, Pelagus 3D, marking the entry of a new player into global maritime and offshore services market.
"Pelagus 3D envisions to be the largest one-stop, on-demand digital manufacturing partner for the maritime and offshore industries. It uses Additive Manufacturing (AM) or 3D printing to deliver maritime spare parts more efficiently in terms of time and cost, allowing customers to ensure their vessels' seaworthiness and keep their operations moving on schedule," the companies said.
"Maritime and offshore industry spare parts will now be delivered more efficiently through new technology. Saving cost and time, the use of additive manufacturing or 3D printing brings a whole new way of ensuring operations keep up momentum and waiting times at a minimum," the companies said.
To the new company, Thyssenkrupp contributes with its technological expertise in additive manufacturing as well as capabilities from its own Tech Centers in Singapore and Germany to supply 3D metal products for application in shipping and other industries.
Thyssenkrupp Materials Services, the company's materials distribution and service provider, further adds knowledge in the development of digital supply chain solutions and platforms.
According to the press release issued Monday, Wilhelmsen brings its maritime expertise and direct ongoing experience in understanding the needs of vessel fleet managers, supporting the delivery of a wide portfolio of maritime products and services for more than half of the global merchant fleet.
Photo of 3D printed ball valve delivered to oil and gas company Yinson in partnership with valve OEM Valland, printed using metal powder from recycled scrap metal from 3D printing recycling company f3nice.
"Pelagus 3D hosts a highly secure digital platform that serves as the main connection between customers such as vessel managers and Original Equipment Manufacturers (OEMs). As a one-stop platform for maritime and offshore spare parts, Pelagus 3D has access to the different printing technologies used by its network of partners around the world, allowing Pelagus 3D to respond to requests to print any material. Bringing together both highly specialised engineering capabilities as well as a strong maritime and offshore network, Pelagus 3D elevates this digital storefront for customers, ensuring that this ecosystem can timely deliver their needs more cost-efficiently," the companies said,.

Pelagus 3D will be headquartered in Singapore and have an equal 50% split between its two industrial owners. Pelagus 3D will be managed by Kenlip Ong, Head of TechCenter Additive Manufacturing at Thyssenkrupp in Singapore, as CEO, and Håkon Ellekjær, Head of Ventures for 3D Printing at Wilhelmsen, as CCO. The Supervisory Board includes Kjell André Engen, President of Wilhelmsen Ship Services, Nakhul Malhotra, Vice President Emerging Opportunities Portfolio of Wilhelmsen Maritime Services, as well as Cetin Nazikkol, Chief Transformation Officer and CEO of the Asia Pacific Africa Region at Thyssenkrupp AG, and Dr. Sebastian Smerat, Head of Customer Innovation at Thyssenkrupp Materials Services.
Faster Access to Marine Parts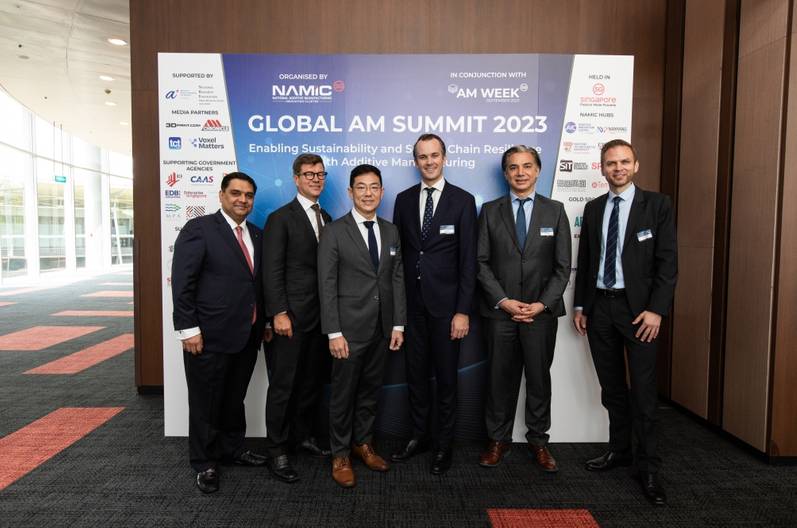 Pelagus BoD with Nakul Malhorta and Kjell Andre Engen from Wilhelmsen left. Pelagus CEO Kenlip Ong and CCO Håkon Ellekjære in the middle, with Cetin Nazikkol and Dr. Sebastian Smerat from Thyssenkrupp on the right.
"By enabling faster access to critical marine parts and solutions, Pelagus 3D plays a vital role in enabling global trade and transportation via our seas. Pelagus 3D is focused on helping the industry continue to connect and grow," says Kenlip Ong, Pelagus 3D CEO.
"Pelagus 3D is built on a strong foundation of unparalleled engineering expertise and maritime experience, and we believe that it will continue both thyssenkrupp and Wilhelmsen's commitment to elevating businesses through innovative solutions that help strengthen their operations and service delivery," says Håkon Ellekjaer, Pelagus 3D Chief Commercial Officer.

"Beyond addressing perennial pain-points in the maritime and offshore sectors such as obsolescence and long lead-times for mission-critical parts with on-demand production, Pelagus 3D is well positioned to address similar needs in other industry sectors, improving customer experience with added supply chain resilience, lowering material waste and inventory cost, contributing to environmental and sustainability goals," added Dr. Ho, Chief Executive Officer, National Additive Manufacturing Innovation Cluster (NAMIC).

The partner companies says that the entry of Pelagus 3D also underscores the positive steps the maritime industry has been making towards digital transformation. Singapore, for example, leverages on technology to enhance the sector's operations such as establishing a digital clearing process as well as port systems.
"Additive Manufacturing (AM) supports Singapore's ambition to be the leading maritime hub. In the maritime sector, AM can help unlock tremendous efficiency potentials with its fast and low-volume high-value fabrication capability of equipment component parts on-demand. This agility ensures responsive support to meet the needs by ships and ports for urgent and critical spares. MPA welcomes the establishment of Pelagus 3D in Singapore and the business opportunities it will bring along, including new and exciting jobs. We look forward to working together, along with our research agencies, to further AM innovation and accelerate adoption", said Kenneth Lim, Assistant Chief Executive (Industry & Transformation), Maritime and Port Authority of Singapore (MPA).