Tideland AIS buoys for Fujairah Port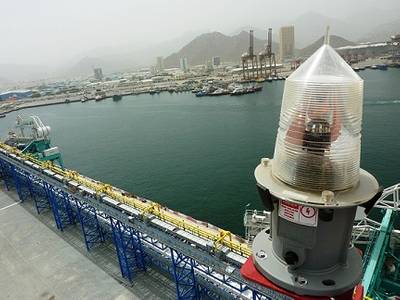 The port of Fujairah has installed eight Tideland SB-285P lateral mark buoys equipped with SolaNOVA-65 self-contained LED lanterns and AIS AtoN (aids to navigation) systems to communicate with vessels in the vicinity.

The buoys are deployed north of the port and mark a new passage where the Fujairah Port Authority provides marine services for the Abu Dhabi Crude Oil Pipeline project (ADCOP). This involves the transport of crude oil through a 360km land pipeline, interim storage and export via three single point mooring buoys for deep water loading.

Tideland's AIS AtoN equipment transmits a range of information including its identity and position to vessels approaching Fujairah and also sends a remote monitoring signal back to base. This is picked up by the AIS station and routed through to the operators in a newly-built control tower where the Tideland AIS display system is installed.

The AIS display includes Message 21 (AIS AtoN data) and offers features such as record and replay, warning areas and AIS target filtering. The system is unique in allowing operators to view AIS vessel traffic with the option of integrating and viewing AtoN status - all backed up on a database to provide a fully accessible record of events.

The SolaNOVA-65 units are the first to be supplied in the Middle East. They were chosen for their extremely bright LEDs, reliability, and robust but lightweight design. SolaNOVA-65 is a compact, self-contained lantern featuring proprietary optics which provide a 360° beam at 5°, 10°, 20° or 30° vertical divergence. The 5° or 10° divergence lens is recommended for fixed aids to navigation while the 20° or 30° lens (and especially when combined with the stable performance of Tideland's SB-285P buoys), ensures that the light is visible under most service conditions.

Tideland's SB-285P buoys feature a robust, maintenance-free construction of rotationally moulded, UV-stabilised, self-coloured polyethylene filled with expanded polystyrene. There are no external corrodible parts and composite moorings system have been specifically designed for deeper water (up to 115 metres). UAE-based Safe Sea Services, Tideland's associate company in the Gulf, supervised the deployment, installation and commissioning of all the equipment, including the AIS system. Installation of the whole AtoN system was completed within seven days, ensuring that vessels could start using the channel on time and in safety.

The Port of Fujairah is the only multi-purpose port on the Eastern seaboard of the United Arab Emirates, approximately 70 nautical miles from the Straits of Hormuz. Construction of the port started in 1978 as part of the economic development of the UAE. Since it became fully operational in 1983, Fujairah has embarked on a continuing process of enhancement to both its facilities and its services. The port offers comprehensive facilities for a wide range of requirements such as general and bulk cargo including oil and containers.