Tomas Tillberg: Rebel with a Cause
Designer Tomas Tillberg's quest for freedom breaks down barriers and expands to China, where his team builds China's first expedition cruise ships putting Antarctica - and the most remote, mysterious parts of the world - within reach.
All for freedom. Freedom for all. Tomas Tillberg could be Harley Davidson's new poster boy. As he views the open road from behind his handle bars, he's filled with an amazing feeling of personal freedom.
With formal training from Royal Academy of Arts in Stockholm, Tillberg's artistry expresses his aspiration for independence. A jellyfish ascending like a sunrise into a sky of fair weather clouds, a gallery-worthy effort, adorns his office. Artists think about the world and share their vision by brushstroke. Mental easels abound for Tillberg, 74, especially Antarctica, itself, where the company's new line of expedition ships will take travelers to vast, huge slates of ice creating a white, continental canvas.
On the wide, open road around Lake Okeechobee, the roar of the Rolling Stones in surround sound provide Tillberg's soundtrack to cruise a highway of possibilities on his touring edition motorcycle in solitude, unless his new, Argentinian wife is saddled up behind him.
"This motorcycle is made for two," he said, smiling. "Most people will be surprised to know I am remarried. I am so lucky to have her," said Tillberg, 74, of his second wife. Married the first time for 43 years, the mother of his two children passed away about four years ago.
His father, Robert, founded Tillberg Design, but the second generation doesn't foresee a third at the helm. With two capable partners, Carlos Reyes and Nedgé Louis-Jacques, and a team of stars, Tillberg enjoys making deals, matching clients with the right partners and smart financing, logical associations derived from a lifetime of successful, global networking. An example of such is Tillberg's partnership with SunStone Ships, which launches China's first expedition cruise ship in August, with 10 hulls delivered in the next five years.
"The costs are very favorable," said Tillberg. "Both financing and building cost. China is very interested in getting in the cruise ship market and there are more ships built now than ever in history."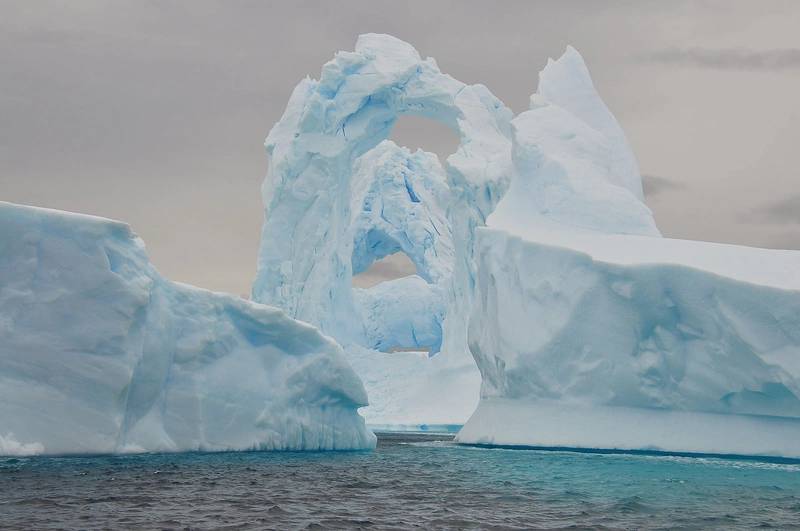 Majestic mountains of ice form natural sculptures in Antarctica. Photo by Tomas Tillberg.
Originating in Sweden, Tomas Tillberg Design & Associates is headquartered in Fort Lauderdale with offices in Hong Kong and Bogota. In delivering the ultimate cruise ship passenger experience, his firm designs all passenger spaces: all interiors; suites; bars; lounges; crew areas; cabins; and decks; sometimes, signage and art.
"It has all changed," he said of the cruise ship industry, from project build sizes to interior materials to itineraries.
"There are new materials, not just linen, wool and cotton and teak decks. Now there are synthetic decks. One relatively new, really cool material comes from husks of rice compressed to look almost like teak."
Staying apprised of the latest maintenance-free materials for cruise ships is a constant evolution, as is managing 400 suppliers. Ships get bigger and bigger with more players and offerings.
An aging fleet of smaller cruise ships over 30 years old presents opportunity with Tillberg's near-encyclopedic knowledge of cruise ship evolution and niche markets.
"The yards were there and began building specialized ships which evolved to cruise ships. The European yards are booked out four to five years. It's another reason why we were interested in China. Just around Shanghai there are 200 shipyards, but only a few are really big and capable of building cruise ships. There is a lot of capacity for cruise ship building in China today."
Ocean liners from Europe to America became the world's first cruise ships which evolved into Finland, Germany, France and Italy producing the majority of cruise ships today. Converted ferries were Miami's first offerings to the Caribbean. Then routes sprung up through the Mediterranean, and to Asia. Today, passenger options are virtually unlimited with expeditions to the Polar regions, Amazon and practically anywhere on the globe.
"Expedition cruising is an active lifestyle," he said, "but there is no ice rink or Las Vegas show, the main attraction is nature."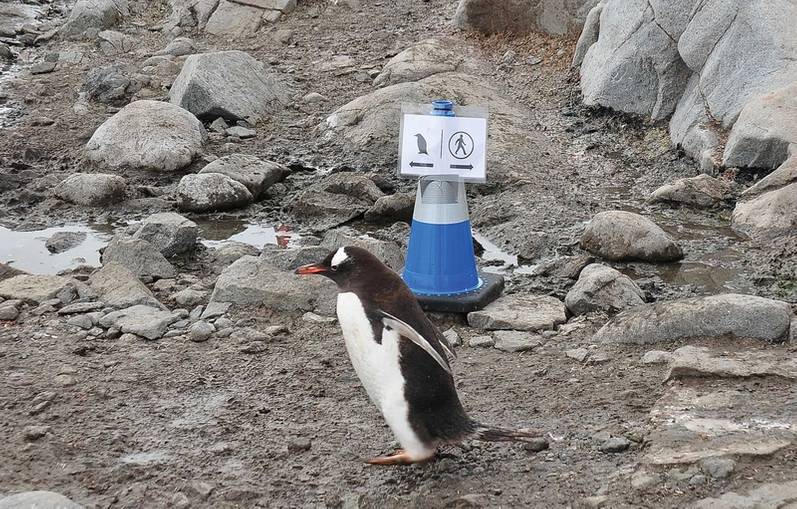 At the English station of Port Lockroy in Antarctica, Tillberg's party went ashore and enjoyed displaying a directional cone to avoid a potential human traffic jam with the penguins. Photo by Tomas Tillberg.
The expedition passenger experience is the polar opposite of the typical booze-cruise, sun-worshiping, singles scene on many cruise ships. There is a lecture lounge, not a show lounge. An expedition ship's purpose is engaging the destination, not lazing inside. The layout includes mudrooms for passengers to wash and sanitize their boots pre and post voyage ashore, and change into warm clothes and life vests. There's no palm-lined gangway to disembark in Antarctica.
Tillberg's face lights up with fascination discussing Antarctica, his mind filled with fantastic images of nature. He urges all travelers to become explorers on expedition cruise ships to experience this continent's pure and innocent splendor.
"Just approaching Antarctica is as if one is approaching another planet," he said. "It's remote and vast and a bit mysterious, too. There are high mountains, active volcanoes and ice. Yet the wildlife around its shores is just astonishingly vibrant. Once you've visited on an expedition ship, you also become an ambassador for Antarctica, if only because it's such an awe-inspiring place. Pods of whales and colonies of penguins are amazing, and so different from a cruise to Mexico. These colonies of penguins come ashore once a year and nest. They are not afraid; they walk up to you."
On ship checks, Tillberg gets to Antartica about twice a year. The air is clean; the mood as majestic as the mountains of ice above and below the surface.
"A whale dove under the Zodiac," he mused. "You could almost touch it. It is hard to convey that experience. You expect that feeling with a horse or dog but don't expect to connect with a whale. It happened so fast, just this gentle giant."
Expedition ship cabins are not huge, but they are comfortable, designed with minimalist, warm colors using soft natural materials. There are storage areas for cameras, boots, and cold weather gear, sans the panache. The average expedition ship's capacity is 160 - 200 passengers. The cabin arrangement views the deck and beyond for passengers to enjoy a singular, emotional experience of this remote, pristine frontier.
Perhaps the expedition cruise ship passenger manifest is its own kind of brotherhood, akin to Harley culture.
"Some bikers look dangerous," he said of the often superficial, first impression of Harley riders. "But you find the nicest people. You think you wouldn't want to meet some in a dark alley. Then you find out this guy's a surgeon. You tell 'em what you ride and you're part of the gang. It's unpretentious. A unique experience."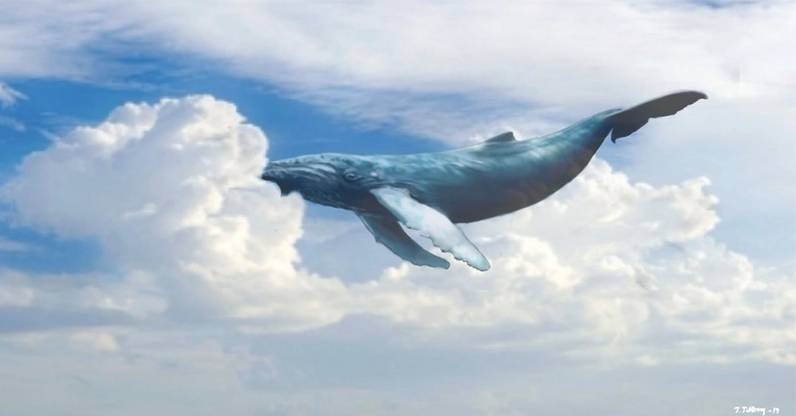 Inspired by his travels, Tillberg's created Cosmic Whale (below) on his iPad, where he can realize ideas quickly. The electronic image is more like a photo he would paint, such as his original oil rendition of The Whale and The Cloud (above). Art by Tomas Tillberg.