New ferry for Port Townsend/Keystone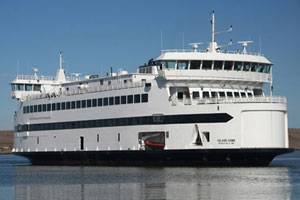 Washington State Department of Transportation (WSDOT) Ferries Division announced on Dec. 1 that it is awarding a contract to Todd Pacific Shipyards to build one 64-auto ferry. Todd Shipyards submitted a $65.5m bid last month to build one 64-auto ferry.

With the contract award, the new ferry is on an 18-month construction timeline.

"Our economy and the people who depend upon this ferry route will greatly benefit from this contract. This award is expected to generate nearly 200 jobs," said Gov. Chris Gregoire. "The locally built ferry will provide reliable auto and passenger service on this critical route."

The ferry will serve the Port Townsend to Keystone route that has been without a state-owned auto ferry since the Steel Electric Class ferries were taken out of service in November 2007. Since then, various temporary solutions have been in place, including a leased auto ferry, the Steilacoom II, from Pierce County.

"It's important for the long-term health of the ferry system that we get on with the business of building new vessels and replacing our aging ferry fleet," said Paula Hammond, Secretary of Transportation. "These vessels fit with our plan that includes identifying a sustainable long-term funding source to support the ferry system into the future."

The new 64-auto ferry will hold up to 750 passengers. The next steps toward construction include a signed contract and contract security returned from Todd Shipyards. Once that is received, the state will issue a notice to proceed, followed by delivery of the vessel 540 days later.

"I greatly appreciate the efforts of the Port Townsend and Keystone communities, state lawmakers and Todd Shipyards to get a new vessel into construction," said David Moseley, WSDOT Ferries Division Assistant Secretary. "If there is one thing we know, it's that there will be many challenges ahead to service and replace the state's aging fleet."