C-Vu 3D VTS: New 3D Vessel Tracking System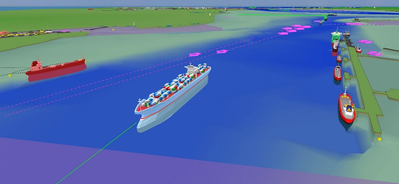 The new course to follow in controlling port traffic. A step change to enhance safety and improve operational efficiency.
Large ships navigating narrow waterways are always vulnerable to accidents – one only has to think of the Sea Empress tanker disaster at Milford Haven, or more recently the wrecking of the Costa Concordia. Managing their progress, usually in and out of ports and in other restricted channels, has understandably assumed a critical role in ensuring their safety. But recently Cardiff based company GeoVS has produced the world's first commercial marine three dimensional vessel tracking system. This brings a step change in monitoring and management of vessels in ports, estuaries and restricted waterways.
Dr. Rafal Goralski, Director of Technology at GeoVS commented: "For the past 12 years colleagues and I have been grappling with the complex realities of enhancing situational awareness for maritime safety. Only now do technological advances allow the integration of data from many sensors around a port to produce a real time, three dimensional traffic management and visualisation tool. This research has resulted in the development of the world's first commercial three dimensional real time vessel tracking system."
It provides a more comprehensive picture of vessel movements than existing systems, it is easier to use, enhances efficiency and improves safety. Dr. Goralski added: "Research in Sweden has shown that the use of three dimensional charts leads to a significant reduction in human error and a similar increase in the operator's efficiency. The system, which we call , C-Vu 3D VTS works either on its own or as a bolt on to existing two dimensional systems, and can be used by port operators, ships' pilots and other navigators."

What are vessel tracking systems?
Vessel Traffic Systems (VTS) are the technology that enable efficient tracking, monitoring, management, recording and analysis of vessel movements in a particular area, such as a port or confined waterway.

How VTS works
Vessel Traffic Systems comprise a set of sensors (most commonly radar, radio based automatic identification systems (AIS) and CCTV, often also tide gauges and meteorological stations), signal processing and storage servers and any number of co-located or distributed VTS operator stations. It presents real-time navigational data overlaid on an electronic chart system (ECS) display.

Why and where VTS are used
These systems are used in ports and confined waterways to monitor and control vessels for navigational safety and operational efficiency, and ensure vessels follow designated routes. Users are typically port authorities and Coastguards.

Current practice
Currently vessel tracking systems largely rely on radar signals and present a two dimensional picture of vessels moving within the designated area on an electronic chart, displayed on computer screens. They allow port operators or Coastguards to see the vessels and monitor and to control their progress. But these systems have significant limitations.
They do not identify individual vessels, and the performance of radar systems can be adversely affected by weather, furthermore when vessels are close together, their radar blips can merge. They only show the surface picture, not hazards that lie beneath the water, and thus rely upon the operator's local knowledge. Neither do they give tidal information, again relying on the operator's knowledge and experience, which varies from operator to operator. Despite these limitations, they are still a technological leap forward from the Mark 1 eyeball, and early radar systems which utilised small and difficult to interpret circular radar screens. GeoVS's new system, C-Vu® 3D VTS, is a further leap forward. The picture it presents to operators is more encompassing, clearer and straightforward to understand.
It presents a three dimensional image and also gives realistic representations of all the vessels, the waterway, port installations and navigational marks such as buoys. At the click of a mouse it shows the underwater picture and hazards vessels may encounter. This includes critical real time tidal data, so the operator knows exactly the depth of water beneath the keel of each vessel. GeoVS's system draws on information from existing radar systems, and supplements this with inputs from tidal gauges, meteorological stations, and radio based automatic identification systems, which are now mandatory for all commercial vessels.
Thus it presents a comprehensive real time picture of what is happening in the waterway, identifying individual vessels, in a way that is straightforward to understand. It improves situational awareness, reduces fatigue, particularly eye strain so enhancing operators efficiency. The system automatically records the picture and can store it for up to 10 years. This brings big benefits as a training aid and for investigation and analysis of incidents, particularly if there is litigation.

Technological developments
GeoVS's new C-Vu® 3D VTS has been made possible by a number of technological advances and a decade's worth of research and development by Dr. Goralski and colleagues. The advent of high speed data processing, electronic charts, large LCD screens, improvements to radar, and the introduction of AIS, were essential for enhancements GeoVS's system brings. Dr Goralski added: "The last two decades have seen unprecedented technological progress in electronics, computers and software. With that progress a trend has started to emerge, it is not people who should have to learn how to operate complex technology, and keep bending themselves to its peculiarities and limitations – it is the computer systems which should be optimised to better cater for our needs, enhance our natural capabilities and compensate for our limitations. This will dramatically enhance efficiency and improve the users' operational comfort."
In the marine world, as a result of that thinking, the idea for the three dimensional chart emerged. It was sensible to remove the extra workload and concentration required to interpret two dimensional charts and instead use the natural three dimensional cognitive capabilities of the human brain."

GeoVS's C-Vu® 3D VTS, bestows a range of practical benefits, bringing improvements in operations, training, incident investigation, port planning and traffic analysis. In summary:
• It is very fast and easy to comprehend, and presents a clearer and more complete picture of the navigational situation than a two dimension vessel tracking chart display.
• It reduces operators' fatigue and improves their operational comfort.
• It is built from official electronic charts, with all updates automatically applied, and offers operators a selection of view points and perspectives, including views from the bridge of any ship in the area.
• It helps operators to distinguish between vessels close together, which on radar screens appear as one blip. This allows much closer monitoring of specific local situations and improves cooperation between operators and pilots.
• Hydrographic survey data, and real-time inputs from tide gauges and meteorological instruments, can be easily integrated to give a complete picture of what is actually happening on the water.
• The system has a 10-year recording capability for AIS and radar tracks, and offers advanced statistical analysis and planning options based on the traffic database.
• It provides a complete navigational situation for any day and time, since the system may be easily retrieved at the click of a button and analysed in full detail at any replay speed.
• It is fully compatible with any existing vessel tracking system, and works as an add-on which enhances the functionality and lifetime of existing investments in VTS technology.
• It can operate on its own as a fully capable primary vessel tracking display.
• With the family of pilotage, navigation and mobile radar units already under development, it provides an easily expandable and future-proof core of an Integrated Safety Management System.