Ship Repair Tradesmen of the Year Awards by VSRA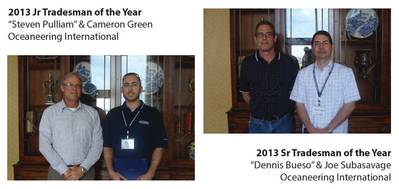 The 2013 Ship Repair Tradesmen of the Year were recently honored by the Virginia Ship Repair Association (VSRA).
The award citations by VSRA are as follows:
The 2013 Junior Tradesman of the Year
Steven Pulliam, an Outside Machinist from Oceaneering International, Inc. He was recruited to be a core member of the Shop Mechanical Team due to the high quality of his workmanship. He is a mentor to the Freshman class for his company's Apprentice Program. He created a form that concisely documents deficiencies in components that are received for refurbishment which has been instrumental in reducing the number of hours required to create a Condition Report by at least 25%. He has been selected as both Employee of the Month, Employee of the Quarter, and nominee for Employee of the Year.
The 2013 Senior Tradesman of the Year
Dennis Bueso, an Inside Machinist from Oceaneering International, Inc. He regularly designs and manufactures special tooling required to perform his assignments. Over the span of his career, he has manufactured every component on the DSS Dry Deck Shelter Track and Cradle that is used by Special Operations Forces.

He gladly shows new and junior craftsmen "the ropes" and takes pride in sharing his expertise. He takes an active role in his community by assisting in organizing outreach programs in underprivileged communities where his church provides food, books, school supplies and clothing to the needy.

In selfless fashion, he accepted an acquaintance's son into his home and became his legal guardian to raise and mentor as one of his own family.

The two winners were selected from among fourteen nominees representing over 200 member companies in the Virginia Ship Repair Association whose combined businesses have an economic impact in the Hampton Roads area on: 40,000 jobs, $5 billion in annual sales and $1.4 billion in employee earnings and benefits.

Virginia Ship Repair Association is a regional trade association representing companies engaged in, or supporting, the ship repair industry in Virginia and the Mid-Atlantic region.