La Niña to Transition to Neutral Weather in April-May -U.S. Forecaster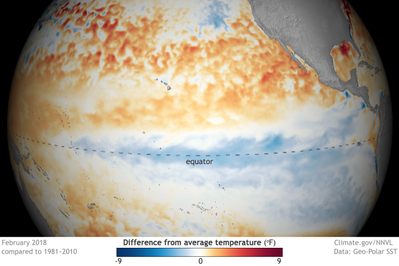 The La Niña weather pattern is likely to transition to ENSO-neutral conditions during the April-May period, a U.S. government weather forecaster said on Thursday.

ENSO-neutral refers to those periods in which neither El Niño nor La Niña is present, according to CPC.
There is a more than 50 percent chance of ENSO-neutral conditions prevailing through the northern hemisphere summer in 2018, the National Weather Service's
Climate Prediction Center
(CPC) said in its monthly forecast.

Last month, the agency had pegged the chance of ENSO-neutral conditions at about 55 percent during the March-May period.

La Niña emerged in 2016 for the first time since 2012, before fading in early 2017.

Typically less damaging than El Niño, La Niña tends to occur unpredictably every two to seven years. During a La Niña year, winter temperatures are warmer than normal in the Southeast United States and cooler than normal in the Northwest, according to the U.S. National Ocean Service.
The Southwest typically sees drought conditions during a La Niña cycle as a high-pressure ridge prevents storms moving west from the Pacific to the states of
New Mexico
and
Arizona
.
Reporting by Vijaykumar Vedala and Arpan Varghese in Bengaluru