Transocean Shares Poised for Big Move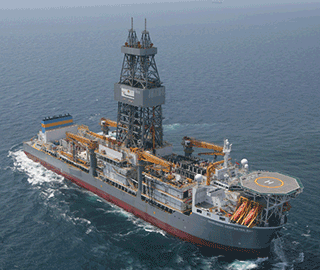 Transocean Ltd shares are expected to move about 8 percent in either direction following its earnings results on Wednesday, options data showed, but positioning among traders suggests some worry.
This would be the biggest post-earnings move for the shares in at least eight quarters.
The outlook among traders was pessimistic, however, as seven of the ten most active Transocean options on Tuesday were puts, which are usually either a bet on or a hedge against the shares falling.
"People are very cautious going into the earnings," said J.J. Kinahan, chief market strategist at retail brokerage TD Ameritrade Holding Corp.
The sharp drop in oil prices has hit the shares of other major offshore drillers as well, and raised questions about the prospects of the drilling market.
Transocean, one of the world's top offshore drilling companies, has been hit hard and its shares have fallen about 58 percent over the last six months. The shares closed down 2 percent at $15.95 on Tuesday on the
New York Stock Exchange
.
The company recently said chief
executive Steven Newman
was stepping down and slashed its annual dividend by 80 percent to 60 cents a share.
On Tuesday, Transocean put volume was more than four times higher than for calls, according to Trade Alert data.
On Monday, Susquehanna Financial Group downgraded its rating on Transocean to "negative" from "neutral," citing concerns about the weak environment and the company's ability to win contracts with its aging fleet of rigs.
The cost of a weekly Transocean straddle, where an investor buys an at-the-money put option and a similar call option, suggested a move of about 8 percent by Friday.
Bets on the shares dipping below $15 by Friday were the most active options, with volume of more than 16,000 contracts.
Seadrill Ltd's shares have fallen about 68 percent over the last six months. Ensco Plc shares are down 46 percent and those of Noble Corporation Plc have fallen 36 percent.
"The lack of contracting activity in 2015 will drive a long and severe downturn in the offshore drilling market," Raymond James analysts said in an industry note on Tuesday.
(Reporting by Saqib Iqbal Ahmed. Editing by Andre Grenon)