Austal High Speed Transport Ship Hoists Broom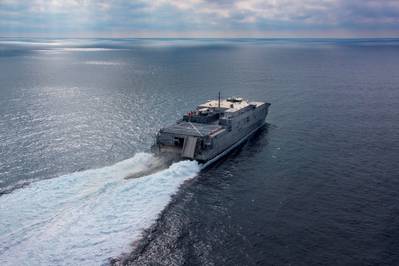 Hoisting a broom is Navy tradition to signify a 'clean sweep' of trial events, now granted to JHSV 1 USNS Spearhead.
First-in-class Joint High Speed Vessel USNS Spearhead (JHSV 1), the high-speed catamaran transport ship under construction at Austal USA in Mobile, Alabama, has successfully completed Acceptance Trials (AT) in the Gulf of Mexico.

To achieve this milestone, the Navy conducted comprehensive tests which demonstrated the successful performance of the ship's major systems and equipment to include the propulsion plant, ship handling and auxiliary systems.

Craig Perciavalle, Austal USA Senior Vice President of Operations, had this to say the day after Acceptance Trials were completed, "I consider it a major accomplishment to be authorized by the Navy to hang a broom from the mast, a Navy tradition representing a 'clean sweep' of trial events, after completing our first Acceptance Trials as prime contractor."

These trials are the last significant milestone before delivery of the ship to the Navy which is expected over the coming months. The ship was presented to the Navy's Board of Inspection and Survey (INSURV) with high levels of completion, according to the Navy.

Austal is currently under contract with the US Navy to build nine 103-meter JHSVs under a 10-ship, $1.6 billion contract.