Transportation Sec., Maritime Administrator, VP Biden Visit Charleston Port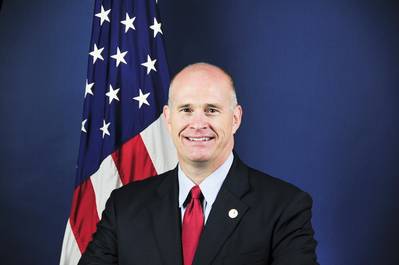 U.S. Transportation Secretary Anthony Foxx was joined by Vice President Joe Biden, and Maritime Administrator Chip Jaenichen at the Wando Welch Terminal Project in Charleston as part of the secretary's four-day, five state GROW AMERICA Express bus tour aimed at encouraging Congress to act on a long-term transportation bill.
Current surface transportation funding is set to expire on May 31st.
"The infrastructure we're helping to build here at the Wando Welch Terminal means a safer, more efficient, and economically competitive facility," said Secretary Fox. "The ability to attract bigger ships to the Port of Charleston means more jobs and business throughout the entire region, but even more importantly, it allows our nation to be more competitive globally. We need more of these investments, not less."
"U.S. ports have long been reliable gateways for our consumer goods, and we must ensure that they have the infrastructure necessary to accommodate the new generation of larger container vessels carrying increasing volumes of import and export cargo," said Maritime Administrator Chip Jaenichen.
As the Port's largest terminal, Wando Welch handles about 63 percent of the cargo moving through the Port. Although the terminal was designed to accommodate four vessels, it currently operates as a three vessel facility due to the increasing size of containerships now arriving at the port. A $63 million port deepening project, funded in part by a $10.8 million federal Transportation Investment Generating Economic Recovery (TIGER) grant, will maximize the terminal usage by providing the structural repairs and upgrades.
This is Foxx's second bus tour since being appointed Transportation Secretary in July 2013 after serving as Mayor of Charlotte from 2009 to 2013.
On February 2, the Obama Administration announced a plan to address the infrastructure deficit with a $478 billion, six-year surface transportation reauthorization proposal building on the GROW AMERICA Act, which the Administration first released last year.