Towboat Delivered to Tidewater Transportation & Terminals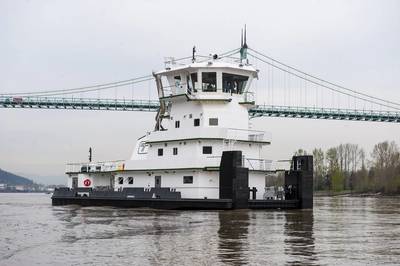 Tidewater Transportation & Terminals takes delivery of new towboat Crown Point from Vigor Industrial to be deployed in Tidewater's Columbia and Snake River service mid-April
Tidewater Transportation and Terminals, headquartered in Vancouver,
Washington
, has taken delivery of Crown Point, a new custom-built towboat commissioned at Portland's Vigor Industrial.
Crown Point is the first of a series of three towboats being built at Vigor for Tidewater, and will join the company's current fleet of 16 vessels and 160 barges.
Marc Schwartz, Maintenance & Engineering Manager at Tidewater, expressed, "The launching of the Crown Point, and the forthcoming Granite Point and Ryan Point vessels, marks an important step for Tidewater. The vessels will strengthen our fleet, as well as reinforce Tidewater's commitment to our customers, community and environment."
The Crown Point is an environmentally-friendly tug with reduced air emissions and improved fuel efficiency. Designed by CT Marine, Naval Architects and Marine Engineers of Edgecomb, Maine, the vessel features a wheelhouse with exceptional all-round visibility through full height windows, leading edge navigation and communications equipment, and enhanced accommodations for the captain and crew.
At 102 feet in length and with a beam of 38 feet, the Crown Point is powered by two Caterpillar 3516C EPA Tier 3 certified diesel engines producing 2,240 BHP, each at 1,600 RPM. The engines drive two 92" x 100" fixed pitch, stainless steel propellers through CT28 Kort Nozzles capable of a service speed of 8 knots. Operating in the
Columbia River
Gorge high winds, extreme currents and swells can be considered normal piloting conditions. For this reason an enhanced steering system utilizing four steering and four flanking rudders was designed.
Electrical power is provided by two C7.1, Tier 3 generators, rated at 480v, 200KW at 1,800 RPM. The generators are controlled through an automatic transfer system that ensures the vessel will recover from a generator power loss in less than 30 seconds. Deck machinery includes seven Patterson WWP 65E-7.5, 65 ton electric deck winches, with pilot house remote operation and local push button control stations on the main deck. Each winch has Samson 1 3/8" Turbo 75 Synthetic Line.
In order to utilize the newest technology and minimize power usage, variable frequency drives were used in all major rotating machinery applications and LED lighting was employed in both interior and exterior lighting applications. The vessel is fitted with a Kidde NOVEC 1230 fire suppression system. Centralized fire detection and alarms cover both the machinery spaces and accommodations
"During the last year and a half, a great deal of effort went into designing, engineering and building a towboat that would meet or exceed performance parameters," explained Bruce Reed, Chief Operations Officer and Vice President of Tidewater. "With crew endurance being a priority, we employed Noise Control Engineers of Billerica MA to develop a sound and vibration control package for the vessel. By incorporating Christie and Grey vibration control mounts and comprehensive acoustic insulation, noise levels register at less than 60 decibels in the accommodations during vessel operation."
Tidewater Captain since 1981, Larry Bartel was one of two Captains who piloted the Crown Point through her sea trials. "Not only is it the quietest tug I have ever piloted, but it has tremendous rudder power so it can turn around a loaded tow precisely and swiftly," Bartel said.
Named Crown Point for the promontory on the Columbia River Gorge, approximately 15 miles east of Portland, Oregon, the towboat was constructed to safely and efficiently transport and maneuver barges up and down the waters and through the navigation locks along the Columbia Snake River. The Columbia-
Snake River system
spans 465 miles from the Pacific Ocean, at the mouth of the Columbia River, inland to Lewiston, Idaho.
"The delivery of the Crown Point represents the conclusion of a successful project that has further diversified Vigor's new build portfolio" explained Bryan Nichols, director of sales at Vigor Fab. "It has been an honor to partner with Tidewater on this project and to shine a light on the fact that great vessels are being built right here in the Pacific Northwest. We are proud of the Crown Point and are confident that she will serve their company and their customers for decades to come."
Crown Point's christening ceremony is scheduled for June.