New Travelift Hoist for Gold Coast City Marina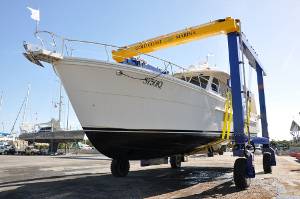 Gold Coast City Marina in Queensland, Australia accommodates superyachts seeking refits, blasting, paintwork and maintenance and features superyacht facilities, marina berths, dry storage, boat sales and brokerage. To maintain its economic growth and development, the company decided to replace its existing eight-year-old 40-ton unit that needed an extensive overhaul with a new Marine Travelift 50 BFMII boat hoist.
Gold Coast City Marina teamed
with Marina Projects
(NZ) Ltd., a supplier and specialized Marine Travelift dealer for over 30 years. Together they determined the 50 BFMII was an ideal boat hoist replacement for the facility.
"The marina recognized and appreciated the quality of Marine Travelift's equipment," said Malcolm Fisher, sales manager at Marina Projects. "They realize the value in owning equipment that's going to last as their business continues to grow."
Steve Sammes, general manager at
Gold Coast City Marina commented
about the new machine. "The GCCM facility sees around 3,000 boats per year coming through the shipyard, so our equipment needs to be of the highest quality and reliability."
The boat hoist was modified to accommodate the marina's height and width specifications to lift larger yachts without needing to remove rigging and included paint customization to match Gold Coast City Marina's corporate image.
Sammes envisions increased growth and performance with the new boat hoist. "The versatile 50 BFMII ticks all the boxes for our operators, the machine performs beautifully, with extremely smooth hydraulic controls. Our customers often comment on how quiet the machine is when running and are amazed as to how smoothly their vessels are lifted out from the water." He concludes, "All in all, it really compliments our professional standards within the shipyard operations here."