Trelleborg Debuts New Dredging Hose in China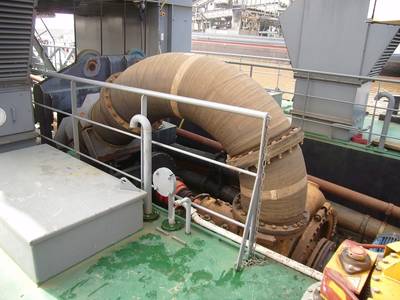 Trelleborg's engineered products operation is now manufacturing a pre-bend rubber dredging hose in China – the only one of its kind available in the country, according to the manufacturer.
Currently exclusive to Trelleborg's Chinese manufacturing operation, all of Trelleborg's pre-bend rubber dredging hoses manufactured in China will be reinforced with armored rings, thereby strengthening the hose and extending its use-life.
Eddy Chen, Head of Asia Infrastructure Sales for Trelleborg's engineered products operations, said, "New extraction projects are emerging in China that require new types of hoses capable of withstanding more extreme working conditions. We have applied our pioneering engineering expertise to create a superior rubber dredging hose that is reinforced with armored rings to deliver a higher level of wear. Even when pumping highly abrasive media, this product guarantees a longer lifetime."
The hose is based on an existing rubber dredging hose manufactured in
Europe
, but has been redesigned to incorporate armored rings and ceramic block that improve the hose's longevity and reliability. Capable of transporting tough materials such as caprock, coral or other edged materials, the pre-shaped rubber bend can be used in a range of suction and discharge applications in various diameters and radii, including dredging pumps for abrasive slurries and loading line gravel dredgers.
Trelleborg said its hoses are manufactured using superior rubber composition to deliver high quality and improved longevity, and are all fully tested and meet inspection requirements throughout the world.