Seismic Triplets for Mainport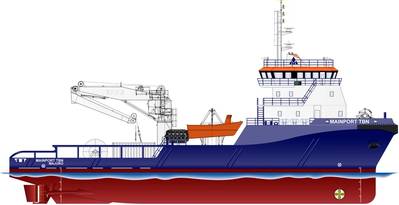 East Malaysia's Shin Yang Shipyard has begun construction of three new support vessels for Mainport.
Located in Miri, Sarawak the Shin Yang Shipyard has developed an impressive record in the fabrication of sophisticated off shore vessels such as the anchor-handling tug Danem 19. Two of the new support vessels, the Mainport Cedar and Mainport Pine, will be 54.6 by 13.8-meter supply, seismic support vessels. The third, the Mainport Kells, will be somewhat smaller at 37 by 8.7-meter, and will also carry the designation supply, seismic support vessel.

Based in Cork, Ireland, The Mainport Group is an integrated marine services company providing a wide range of maritime services. In the field of offshore support the firm has fleets of vessels including safety standby, tugs, tanker assist, bunkering, and seismic support services.

The three new vessels will be added to the firm's current fleet of four seismic vessels. The two larger vessels will be powered by twin Cummins Tier 2 QSK60 engines each generating 2200 hp and turning controllable pitch propellers. The smaller vessel will be powered by a single Cummins 50 liter Tier 2 engine generating 1600 hp at 1800 RPM and turning a fixed pitch propeller through a 4.5:1 reduction gear. The first of the new vessels will launch in April 2013 with the others to follow in two month intervals.