India's Goa Shipyard Delivers Two-Hundredth Vessel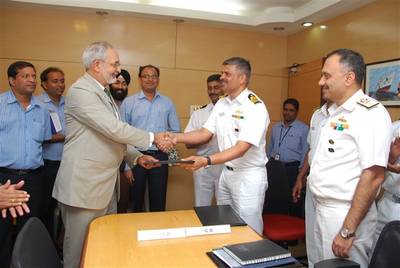 Goa Shipyard Limited (GSL) handed over the 105-m patrol vessel INS SUMEDHA to the Indian Navy and the largest ever constructed by them marking the yard's 200th ship construction delivery.

The 200th vessel was handed over by RAdm (Retd.) Vineet Bakhshi, VSM, Chairman & Managing Director, Goa Shipyard Limited to Cdr. Anand E. Kulkarni, Commanding Officer Designate, "INS SUMEDHA" in presence of RAdm Atul Khanna, VSM CSO(Tech.) Eastern Naval Command in a simple ceremony in Goa.

The new warship will help meet the increasing requirements of the Indian Navy for undertaking ocean surveillance and surface warfare operations in order to prevent infiltration and transgression of maritime sovereignty. It is designed for monitoring sea lines of communication, defence of offshore oil installations and other critical offshore national assets.

GSL adds that it is presently implementing a major extension plan, and is one of the few Indian shipyards equipped with an in-house design capability with an in-house product range that efficiently meets the specific requirements of clients in the defence as well as commercial sectors. Most new shipbuilding projects at GSL are based on its own in-house design – the result of intensive R&D activity carried out over the years.