UK Aims to Cash In On Cruise Ship Repair and Refit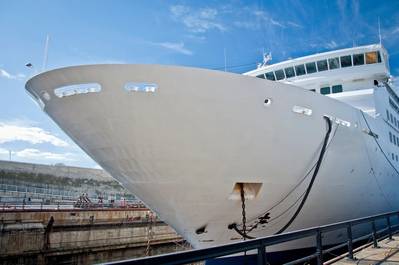 Companies from across the U.K. maritime sector and numerous government departments are coming together to develop a vision for making the country a global center of excellence for cruise lines looking to repair and refit their vessels.
Britain's maritime engineering industry already feeds into the cruise industry but sees significant untapped economic opportunity within the £2.36 billion global market for cruise ship refit and repair, particularly as demand for cruises rebounds after the COVID-19 pandemic.
Current barriers include a lack of skilled labor and difficulty accessing the international specialists needed to visit the U.K. to work on the vessels. As cruise ships get bigger there will also be a need to drive new investment into U.K. facilities to meet the needs of cruise lines.
In an effort to make the U.K. a more attractive market for cruise lines, businesses across the country will work together to address these challenges while creating a center of excellence by sharing facilities and providing a streamlined offering. The government will also launch a campaign to promote the U.K. and its cruise refit and repair capabilities.
The plan is being developed as part of the U.K.'s National Shipbuilding Strategy, which launched last year.
"The global cruise line industry, apart from during the COVID-19 pandemic, has been a continuous growth market for the last 40 years," said John Parker, author of the U.K. National Shipbuilding Strategy. "European cruising represents a very large target market for drydocking, repairs and significant scale refits. The opportunity therefore exists to address this market with a competitive and skilled operation that can efficiently deliver a quality service to discerning ship owning customers."
Among the companies leading the initiative is Harland & Wolff, whose Belfast yard last year welcomed Cunard's Queen Victoria, the largest ever cruise ship to be drydocked in the U.K.
John Wood, chief executive of Harland & Wolff, said, "Our company is committed to developing the facilities and the skills to service this industry, but we are just part of a much bigger picture.
"There are hundreds of companies spread across the country who can all feed into the work we do. We want to combine our efforts to make sure that, not only the maximum amount of value of these contracts comes from the U.K., but also that they draw upon the country's engineering skills base, supporting and developing Britain's heritage for marine engineering.
"By identifying the barriers to doing more cruise work in the U.K. refit and repair, we can work together across the industry and with government to overcome them.
"Adopting this approach and creating a global center of excellence would mean that work that is happening overseas can be completed in the U.K."